Trail Mix – Fruits and Nuts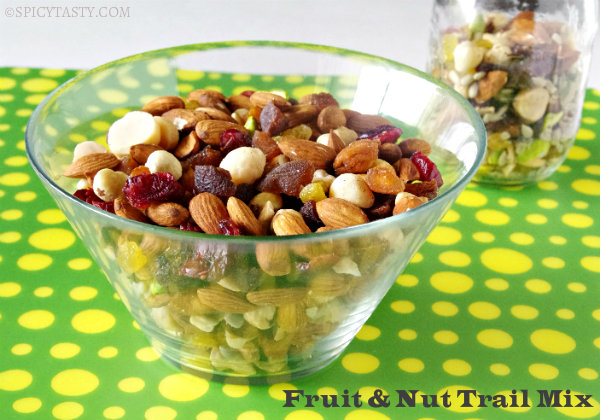 Trail mix is a mix of nuts and dried fruits and sometimes contain chocolate chips and granola. It is a satisfying snack you can enjoy on your hiking or other outdoor activities since it is easy to carry and provides a lot of energy and required nutrients. Serve this to your guests as a healthy snack for a party or get-together. Pack this in your kid's lunch box or your own so that you can avoid snacking on unhealthy food.
By making this at home we can save some money and add in your favorite nuts and dried fruits unlike the store bought ones. I have added all the nuts and fruits that I had on hand. But you can add or remove one or more ingredients and adjust to your taste.
Ingredients:
Almonds – 1 cup
Pistachios – 1/3 cup
Sunflower seeds – 1/4 cup
Hazelnut – 1/4 cup
Macadamia nuts – 1/4 cup
Peanuts – 1/4 cup (optional)
Cashew nut – 2 tbsp
Dried fruits – 1.5 cups (cranberries, apricot, raisins, strawberries)
Method of Preparation:
Preheat oven to 250ºF.
Toast all the nuts for 15 minutes or longer until it becomes light brown. It will be become crunchy and enhances the flavors. Mix the nuts and dried fruits together. Store it in an air tight container for upto a month.