Gokulashtami Special – Uppu Seedai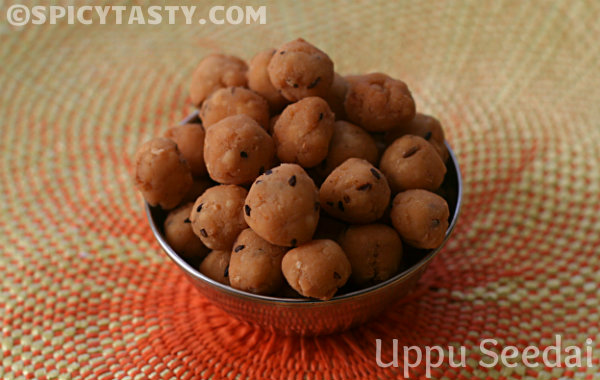 My husband wanted me to make Uppu Seedai for Krishna Jayanthi. I called my sister to ask the recipe and she warned me about bursting. I have heard stories about seedai bursting from my friends too. Then I decided to make seedai in an easy way by using store bought rice and urad flour. If it is homemade, it should be sieved properly (to avoid bursting). Also dry the balls before frying them. Here is the recipe for the Seedai..
Time of Preparation : 45 minutes
Yield : 1 1/4 cup
Ingredients:
Rice Flour – 1 cup
Urad Flour – 2 tbsp
Sesame seeds (I ve used black seeds) – 1 tsp
Cumin seeds – 1 tsp
Salt – to taste
Grated coconut – 2 tbsp
Butter (room temperature) – 3 tbsp
Asafoetida – a pinch
I have used store bought rice and urad flour.
Fry the rice flour in medium heat for 2 minutes (not more than that).
Fry the urad flour in medium heat for 2 minutes.
Fry the grated coconut (I have used frozen) until it loses its moisture.
Then dry roast the sesame and cumin seeds.
Mix everything along with salt, asafoetida, butter.
Add water very little by little to form a smooth dough.
Roll them to small balls slightly bigger than the size of chickpeas.
The balls should not be tight and place the balls in dry cloth or a paper for 15 minutes.
Heat oil in medium flame and fry the balls until they become golden brown or till the bubble stops.
Drain them in a tissue paper and transfer them to an airtight container.