Chocolate Truffles (Version 2)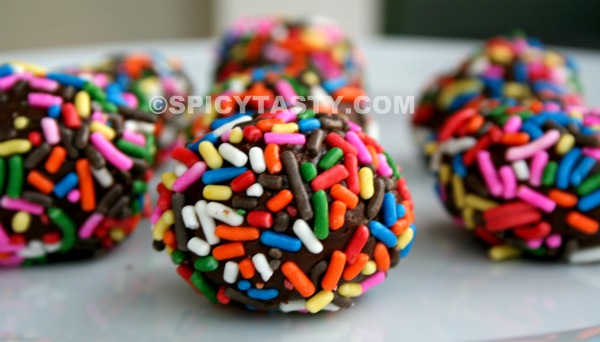 For this Thanksgiving we are planning to visit my sister-in-law. I want to try lots of cookies and chocolates for the two sweet little kids. Today I tried making simple chocolate truffles. It took just 5 minutes for the preparation and they are really yummy.
Time of Preparation : 5 minutes and 2 hours for refrigeration
No of truffles : 24
Ingredients:
Semi sweet chocolate chips – 1 1/2 cups
Sweetened condensed milk – 1/2 can
Vanilla extract – 2 tsp
For coating – color sprinkles, cocoa powder, chopped nuts
Method of Preparation:
Take a wide pan and melt the chocolate chips with sweetened condensed milk.
Remove from heat, add the vanilla extract and stir it.
Cover and refrigerate for 2 hours or until they become firm.
Take it out and roll them to 24 equal sized balls.
Roll them over the desired coating.