Coconut Burfi
Coconut Burfi or Nariyal Burfi is a simple and yummy treat which can be made in no time. My mom makes it for Diwali (an Indian festival) ans we all love it. I have used freshly grated coconut to make this burfi. But you can substitute it with frozen coconut or dry coconut. The good thing is you can make them ahead for a party or get-together which saves a lot of time. So enjoy this little sweet treat at home and let me know how it turns out.
Ingredients:
Freshly grated coconut – 2 cups
Sugar – 2 cups
All purpose flour or maida – 3 tbsp
Whole cardamom – 4
Halved cashew nut – 3 tbsp
Ghee/clarified butter – 3 tsp
Method of Preparation:
Add sugar to a pan with a little water and bring it to a boil over medium heat. When sugar starts thickening add shredded coconut. Mix well.
Reduce heat and keep stirring constantly for about 5 minutes. Now add all purpose flour/maida and mix well. After 6 to 7 minutes (approximately) of constant stirring you will get a nice thick mixture which will start leaving the sides of the pan. Add cardamom and mix well.
In between heat a tsp of ghee and add cashew nut. Fry till golden brown over medium heat and remove from heat. Keep it aside.
Keep a greased tray or plate ready and transfer the contents to the plate and spread it using a greased knife. Cut into small squares when it is still warm using a greased butter knife.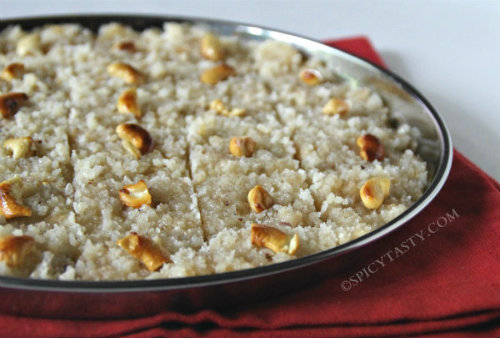 Garnish each piece with fried cashew nut. This is optional and let it cool. After sometime separate the cut pieces and store it in an airtight container. This will stay good for a week. It has a longer shelf life when refrigerated.