Kulfi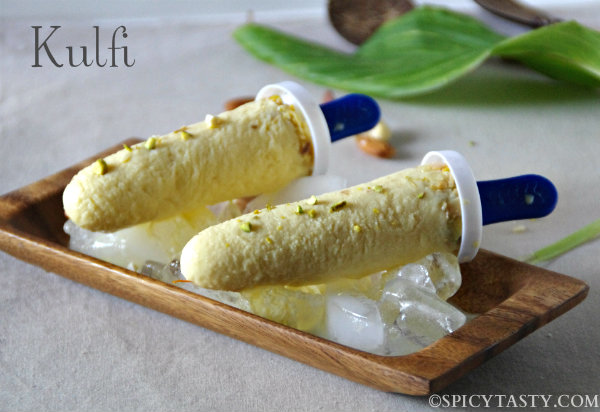 Kulfi is a popular frozen Indian dessert (like frozen custard) which is made of dairy products and sugar and filled with nutty goodness and flavored with cardamom and saffron. This is a rich dessert and perfect for summer times and parties. It is simple procedure. I have used all the readily available ingredients which makes it easy. You can also make it the traditional way by churning the milk till it reduces to one third of the amount and then add sugar, cardamom and nuts. But trust me this recipe makes your life simple. The coolest thing is you do not need an ice cream maker to make this dessert. All you need is pop sickle molds or aluminum molds which is prefect for making kulfis.
When I talk about Kulfi, it reminds me of my childhood days when we used to wait for the kulfi cart come by my street. Makes me nostalgic… Enjoy this homemade kulfi for at home and quench your summer thirst!!!
Preparation time: 3 hrs
Freezing time: 6 hrs to overnight
Yield: 15 to 17 (about 4″ in size)
Ingredients:
Evaporated milk – 1 can
Condensed milk – 1 can
Heavy cream – 1 and 1/2 cups
Unsweetened milk powder – 1/4 cup
Cardamom pods – 4
One big pinch of saffron
Whole cashew nut – 4 to 5
Finely chopped unsalted blanched pistachios – 3 tbsp
Finely chopped unsalted blanched almonds – 2 tbsp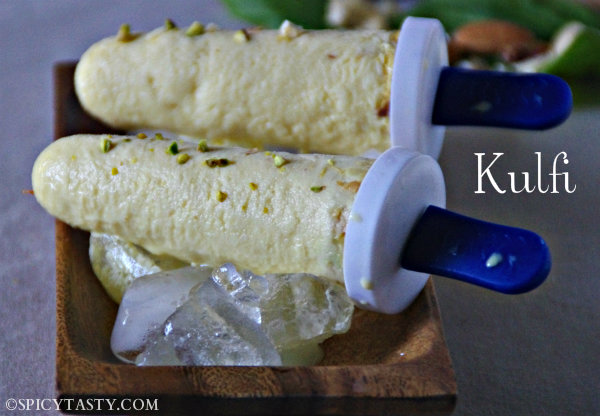 Method of Preparation:
Dry roast blanched nuts and then chop them to small pieces or just pulse them separately until you get small pieces.
In a sauce pan add evaporated milk, heavy cream, milk powder and mix well. Bring it to a boil over medium heat by constantly stirring.
Add condensed milk little by little and check for sweetness and then add the rest.
Add saffron, powder cardamom and all the chopped nuts and turn off heat.
Let it cool and then refrigerate it for an hour or two.
Now add the refrigerated kulfi mix to the molds until 3/4 th full and freeze it overnight.
If you are using a plastic cup or an aluminum mold cover up with plastic wrap or foil (to avoid icy crystal formation on top) and insert a popsicle wooden stick to the mold.
Note and tips:
You can make different flavors of kulfi. Mango flavor is one of the popular. Add a cup of mango pulp or freshly ground ripe mango flesh to the boiled and cooled mixture. Adjust the mango pulp according to your taste.
For parties: Since you may not have many number of molds for a big party, you can pour the chilled kulf mixture in small paper or plastic cups and cover it with an aluminum foil and insert a wooden ice cream stick and freeze it.
Yield depends on the size of the mold you use. I have used a pop-sickle mold of 5″ in length.