Moti Pak
Wish you all a Happy Diwali!!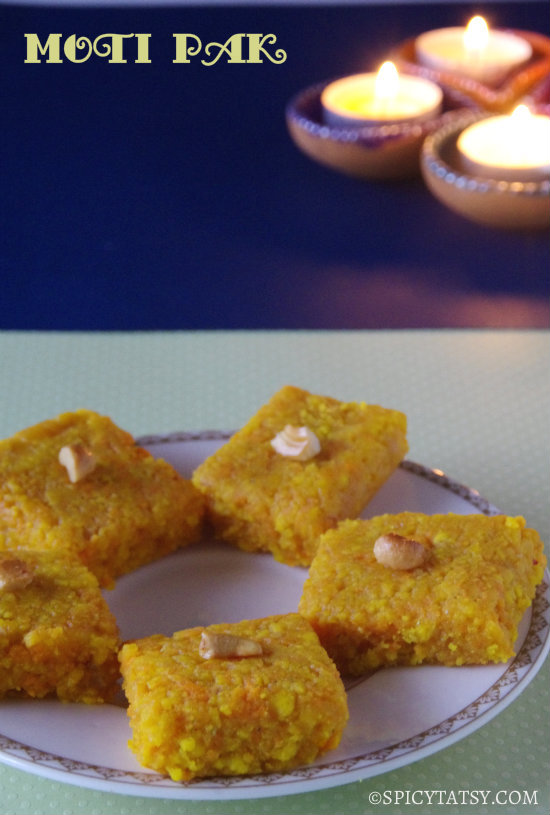 Moti Pak is a delicious sweet burfi made with chickpea flour (besan) and sugar. It tastes more like laddu but it has khoya in it which makes it rich and special. You can make this at home which tastes amazing like the ones from sweet shops. Follow the step by step procedure and prepare this wonderful sweet for Diwali.
Preparation time: 90 minutes
Yield: 16 pieces
Ingredients:
Besan flour – 2 cups
Sugar – 2 cups
Milk – 4 tbsp
Khoya – 1/4 cup
Ghee – 2 tsp
Rose essence – 1 tsp
Saffron – a pinch
Powdered cardamom – 1/2 tsp
Nutmeg powder – a pinch (optional)
Yellow and red food color
Method of Preparation:
Sift besan flour to remove any lumps. Mix the yellow and red food color in a tbsp of water separately. We are going to make two different color boondhis.
Take 1 and 1/2 cups of flour in a bowl and add water little at a time and make a thick batter. Add yellow color to this batter until you get the desired color and mix well.
In another bowl add the remaining half cup of flour and make a thick batter. Add red color to this batter until you get a desired color and mix well.
Add 1 and 1/2 cups of sugar to a thick bottomed pan along with 3/4 cup of water. When sugar melts and starts boiling add 2 tbsp of milk. You will see a frothy formation on top. This is the dirt collecting on top. Remove it using a spoon. Add the remaining milk and remove as much dirt as possible.
When the syrup reaches one string consistency remove it from heat. To check this take a drop of syrup between your fingers and pull it apart. You will see a thin string which means the syrup is ready. Add saffron and a few drops of yellow food color. Mix well and keep it aside.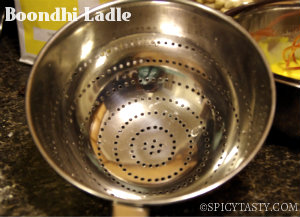 This is the boondhi ladle which is used to make the small fried besan boondhi. If you have a flat spatula with holes you can use that too.
Heat oil in a wide pan.  Pour the prepared yellow batter through the "boondhi ladle" in the hot oil. Do not pour too much of batter and make sure it is not crowded. Turn both the sides and fry.
When the boondhi is just cooked and still soft remove it from the oil and add it to the prepared syrup. Repeat the procedure and finish the yellow batter. Now separately prepare the red color boondhi using the same procedure but do not add it to the syrup. Keep it aside.
Wipe the boondhi ladle after each use.
Add the yellow boondhi with syrup to the food processor and pulse a few times until well combined and boondhi becomes small pieces. Now add the red boondhi and pulse a few times and let everything combine well.
Heat a pan and add the remaining 1/2 cup of sugar with 1/4 cup of water, bring it to a boil. When it becomes sticky (close to one string consistency) add the boondhi mixture and mix well. Add khoya and slowly stir in. When everything is combined well add cardamom powder, nutmeg powder, rose essence, a pinch of saffron and a teaspoon of ghee. Mix well and remove from heat.
Grease a pan with the remaining ghee and add the prepared boondhi mixture. Spread it with a greased spoon or knife.
Transfer it to a greased aluminum foil and cut into squares. Store it in an air tight container.