Paal Kozhukatai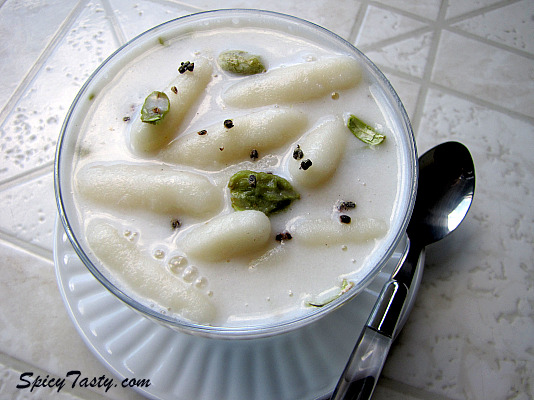 I  got this recipe from my sister. She used to make it for special ocassions and "Paal Kozhukatai" is one of my favorite recipes from her kitchen. As many other not so often made dishes, I've always thought it would be pretty tough to make it. But I finally decided to make it on Gokulashtami (an Indian festival) and it came out really awesome. And its not at all tough to make. It just took like 30-40 minutes for me to make this lovely dessert. Hope you enjoy making this recipe.
Ingredients:
Rice flour: 1 cup
Coconut milk : 1 cup
water :1 cup
Milk : 1/2 cup
cardamom : 5-6 (crushed)
saffron : a pinch
Sugar : 1/2 cup (according to your sweet level)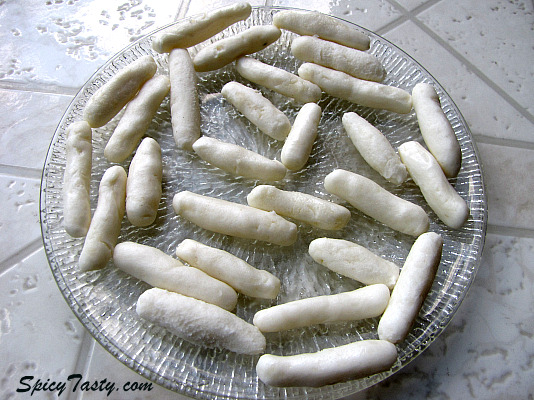 Method Of Preparation:
Take a cup of rice flour in a pan and add 1 cup of water and 1/2 cup of milk (I've used 2% milk). Gently mix it all together.
Heat the batter in medium flame and keep stirring the batter to avoid any lumps.
When the consistency of batter becomes thick enough to make a dough, remove from heat.
When it's cool, add 2 tsp of ghee and 2 tsp of oil and knead it into a soft dough.
Now make a thin cylinder shape or any shape you want by rolling in between your palms out of the dough.
Heat a cup of coconut milk in a pan, add sugar and the rolls or balls one by one into the milk.
When the rolls starts to float on top, add cardamom and saffron.
Remove from heat and serve it hot or cold.