Rasgulla (Step by Step Instructions)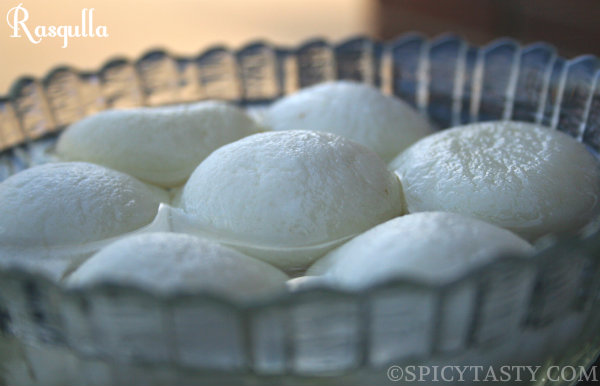 Rasgulla is a very popular sweet in India made of freshly prepared cottage cheese. I love milk sweets a lot and Rasgulla is my all time favorite. Here is the step by step procedure for making this delicious sweet..

Time of Preparation : 1 1/2 hours
No of Pieces : 12
Ingredients:
Milk – 4 cups
Lemon juice – 3 tbsp
Ice cubes – 5
Sugar – 1 cup
Water – 1 1/4 cup
Cardamom powder – a pinch
Boil milk in a thick non stick vessel.
When it starts boiling, reduce the flame and add the lemon juice.
Stir continuously till the milk curdles and the whey separates.
Now turn off the heat and add the ice cubes.
Keep it aside for 5 minutes.
Now strain the curdled milk using a fine muslin cloth.
Wash it well with running cold water in the strainer so it takes out the flavor of lemon from the paneer.
Squeeze the excess water and hang the muslin cloth (with paneer) for 1 hour.
After 1 hour, remove the paneer and knead it for 5 to 10 minutes.
Make smooth round balls.
Make sugar syrup by adding 1 cup of sugar to 1 1/4 cup of water and a pinch of cardamom powder in a pressure cooker.
Add the paneer balls and pressure cook for 5 to 7 minutes (without putting whistle.
The balls will almost become double the size.
Refrigerate it and serve chilled.