Chettinad Mutton Curry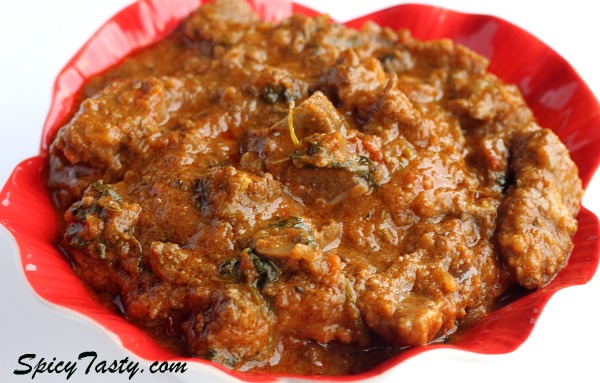 Chettinad Cuisine is most popular in southern part of India and in fact it has gained immense popularity if you consider the sheer number of 'Chettinad' style restaurants in Chennai! It's famous for it's spices and unique flavor. This is the most common non-veg dish you can found in any south-Indian restaurant.
My mom made this Chettinad mutton curry last week and it came out really yummy.
Preparation Time: 40 minutes
Spice Level : 3 out of 5
No of servings : 5-6

Ingredients:
Mutton : 1 kg
OIl : 2 tbsp
Onion : 1 (large) (You can also use shallots or pearl onions instead of regular onions)
Tomatoes : 1

Tomato : 2 (for puree)

Ginger & garlic paste : 1 1/2 tbsp
Cinnamon : 2 "
Cloves : 3
Star Anise : 2
Bay leaves : 2
Cardamom : 3
Curry Leaves : 10-12
Fennel seeds : 2tsp
Cumin seeds : 1 tsp
Ground black pepper : 2 tsp
Red chili powder : 11/2 tbsp
Coriander powder : 2 tbsp
Turmeric Powder : 1/2tsp
Coriander Leaves : for garnishing
Salt : according to taste
Wash and clean the mutton and cut it into small pieces.
Grind the cut onion and tomato into a smooth paste and keep it separate.
Heat oil in a pressure cooker then  add cloves, cinnamon, cardamom, star anise, fennel seeds, cumin seeds and bay leaves.
Then add the tomato/onion paste, little salt and fry them for 3-4 minutes.
Then add ginger and garlic paste, mix it all together and sautee it for a few minutes.
Then add

tomato puree (you can make it out of 2 tomtato or 4 tbsp of Canned tomato puree)

, red chili powder, coriander powder and turmeric powder.
Mix everything together and let it cook in simmer heat (low medium) for 5-6 minutes.
Now add the mutton pieces and 2 cups of water (adjust water according to the consistency you want).
Finally add the curry leaves and black pepper on top of it.
Close the lid and pressure cook for 4-5 whistles or till the mutton gets cooked.
After that remove from heat and once the pressure is gone open and let it cook in medium heat till you get the gravy consistency you want.
Garnish it with coriander leaves.
Serve it hot with chapathi, idlis or rice.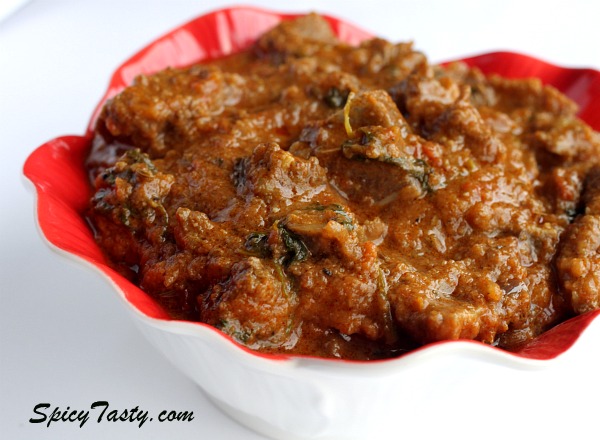 Once you have tried this, I also invite you to try out our Spicy mutton curry recipe that is really popular with our readers.