Chicken Drumstick Fry
It's a simple chicken side dish easy to prepare and goes well with Chicken Briyani.
Preparation Time: 45 minutes
No of servings: 4-5
Spice Level: 3.5 out of 5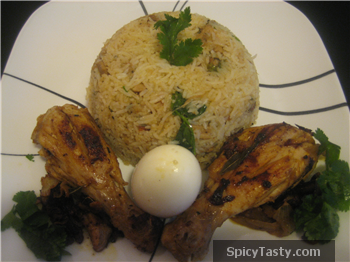 Ingredients:
Chicken drumsticks :6
cloves : 2
Onion : 1
White Vinegar : 1tsp
Oil : 3tbsp
Yogurt : 2tbsp
Ginger and garlic paste : tbsp
Curry leaves : 6 to 8 springs
Green chili : 3(slit lengthwise)
Red chili powder : 2tsp
Turmeric powder : 1/4 tsp
Salt : required to taste
Method of preparation:
Marinade the chicken drumsticks (leg pieces) with ginger and garlic paste , Red chili powder, Yogurt, turmeric powder, and Vinegar.
When you marinade this make a slit in the meat so the spices can soak in.
Marinade this mixture for at least an hour.
After an hour heat oil in a kadai add cloves and sautee the onions till they are golden brown.
And add curry leaves ,green chilies fry them a little bit .
Now add the marinated chicken into it and fry them until the chicken is fully cooked and it turns into brown.
When its turned into brown remove it from heat .
Serve hot with chicken briyani.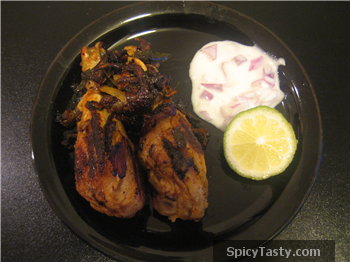 Tip :
When you are out of curry leaves no problem you can add a pinch of lime juice in the marinade it gives extra flavor to the fry.