Mutton Dum Biryani
Whenever I make it, be it for my husband or for a party, it always turns out great. It takes such a short time to make it but the results are fabulous. Full credit goes to my friend Kathija who shared this recipe with me.

Preparation Time : 90 minutes
No of servings : 3-4
Spice Level : 3 out of 5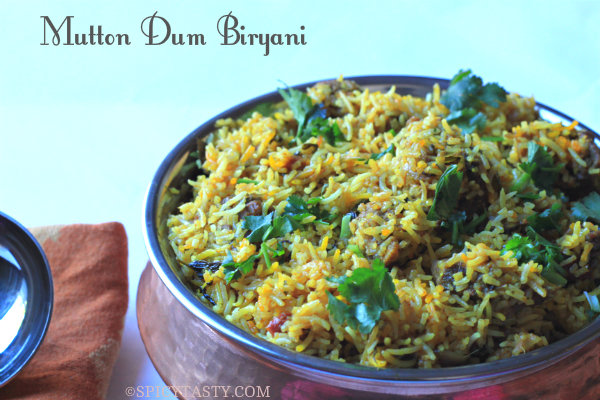 Ingredients:
Mutton or chicken : 1 kg
Rice : 4cups (Rice cooker cup)
Oil : 250 g (or) 1 cup (Rice cooker cup)
Butter : 1/4 piece (or) Ghee : 3 tblsp
Onion : 250g (chopped)
Tomato : 250g (chopped)
Ginger paste : 3tbsp
Garlic paste : 2tbsp
Curd : 1cup
salt : 2tbsp (the reason for this much salt is when u mix the korma with rice it will be even)
Red chili powder : 1 1/2tsp
Turmeric : a pinch for color
Green chilli : 3 (cut into lengthwise)
Cilantro : 1/2 bunch
Clove : 2
Cinnamon : 2
Cardamom : 2
Heat 250 ml oil (Don't reduce the quantity of oil because it gives taste to korma) in a vessel add clove, cinnamon and cardamom, and add onion fry till it becomes light brown.
Now add garlic paste fry a little,add ginger paste fry that too and add the meat or chicken, and salt, saute well, so that it will mix with ginger and garlic paste.
Add curd, red chili powder, green chili, turmeric mix well.
And then add tomatoes,mix it well with above mixture ,add butter or ghee and add half of the cilantro/coriander leaves.
Allow it to cook till the meat is tender.
When it is done add the remaining cilantro.
Cook the Korma in less than medium heat ,and make sure that it should not stick it in the bottom (strictly no water for this korma) don't pressurize if you do so, taste might vary but work will be easy(Try not to pressure cook the korma).
The consistency of korma should be gravy (thick) like. So the boiling time will take 30 minutes.
Method of Preparing Rice:
Take a big vessel so it should be easy to cook rice add more than 10 cups of water in it boil it in high heat.
In the mean time wash and soak the rice for 20 minutes.
when the water has reached the boiling point add the rice, (at least 6 minutes in the boiling water).
Check it with a single rice it should be done but it shouldn't be fully cooked(the stage of rice is 3/4 cooked) at this time drain the water.
Take an aluminum tray or Glass tray or oven safe put the rice in a single layer, add korma on top of it and then rice again(make sure the rice should be on top, because if you put korma on top, it becomes very dry). Cover it with aluminum foil.
Preheat the oven for 350'F .
And put the tray in preheated oven for 30 minutes.
After half an hour take it out mix gently so that rice and korma will mix evenly,make sure the rice should not break.
Serve hot with Raitha.
Last Updated : Sep 21, 2012