South Indian Masala Fish Fry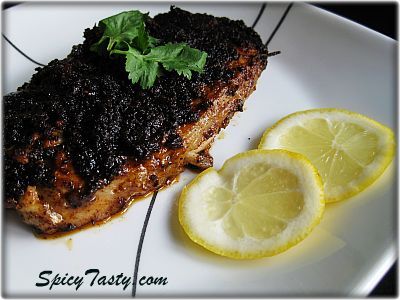 Growing up relatively close to a coastal town in Tamilnadu – Kadalur, we had plenty of access to fresh seafood. One of the main items in a complete South Indian seafood meal is fish fry. It has to be one of the easiest yet can made be made in different varieties.
This particular recipe is from my mother-in-law and is very close to my tongue.. er.. heart. 😉 It goes great with Chicken/Mutton Briyani and Fish Curry.

Ingredients:
Fish : 4 slices (you can use any fish, but in this recipe I have used Cat fish)
Oil : 1/2 cup
Onion: 1 (medium)
Tomatoes : 2
Ginger : 1″
Garlic : 3
Tamarind : 1/4 cup (Extract From a lemon sized ball of tamarind)
Red chili powder : 2 tbsp (according to your spice level)
Salt : required to taste
Turmeric powder : 1 tsp
Cumin seeds: 1 tsp (optional)
Coriander leaves: few springs
Method of Preparation:
Grind chopped onions, chopped tomatoes, ginger & garlic and few springs of coriander leaves in to a fine paste.
Now add turmeric powder, red chili powder, salt, and tamarind water into the paste.
You can add a little water into the mixture to make it a loose paste. (the consistency of the paste should be thin)

Now add the fish slices into the paste and marinate overnight or you can let it stand in the fridge for atleast 4 hours.
Heat oil in a flat pan and add the marinated fish one by one and cook until it becomes crisp on both sides.
Note:
You can also deep fry the fish but if you want to use less oil in your fish you can just do the step I mentioned above.
You can just dump some extra masala mixture on top of the fish while you fry.
Awards:
It's always been so nice to get an award from dear fellow bloggers.
This time we are honored by Lubna Karim of Kitchen Flavors. She passed this lovely, wonderful "Wylde Woman Award" to us.
The rules of this award are:
1.You can give it to one or one hundred or any number in between – it's up to you. Make sure you link to their site in your post
2. Link back to this blog site http://tammyvitale.typepad.com/ Tammy can go visit all these wonderful men and women and remember the Purpose of the Award: To send love and acknowledgment to men and women, who brighten your day, teach you new things and live their lives fully with generosity and joy.
And We would Like to pass this award to some lovely foodie friends,
And our very good friend  shri of Eminent life have Passed an awesome award to us. So sweet of you shri and thanks for passing it to us. And we would love to Pass this award to Karuna, sireesha and priti