Egg Thokku – Spicy Egg Pickle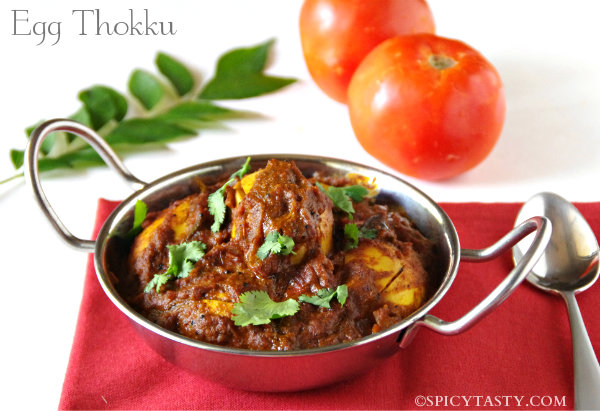 Egg Thokku or Muttai Thokku is a spicy dish where boiled egg is browned and cooked in a spicy onion tomato curry. Muttai means egg, thokku means pickle in Tamil. There are various methods to make this dish and this one is my favorite. Watch out for the spicy goodness and reduce the chili powder if you want it to be mild. You can serve this dish with rice or roti (Indian bread). I would say Paratha with egg thokku is the best combination. Enjoy this spicy egg dish at home.
Preparation time: 30 minutes
Cooking time: 45 minutes
No. of servings: 5
Spice level: 4 out of 5
Ingredients: 
Boiled eggs – 10
Chopped onion – 2 cups (250 to 300 grams)
Big tomatoes – 3
Ginger garlic paste – 1 and 1/2 tbsp
A few curry leaves
Mustard seeds – 1 tsp
Bay leaf – 1
Cinnamon stick – 1″ piece
Cloves – 2
Cardamom – 2 pods
Chili powder – 2 tsp
Coriander powder – 2 tsp
Cumin powder – 1 tsp
Fenugreek seeds – 1/4 tsp
Turmeric powder – 1/2 tsp
Dried red chili – 1
A hand full of cilantro
Chopped mint – 2 tbsp
Oil – 1/4 cup
Salt to taste
Method of Preparation: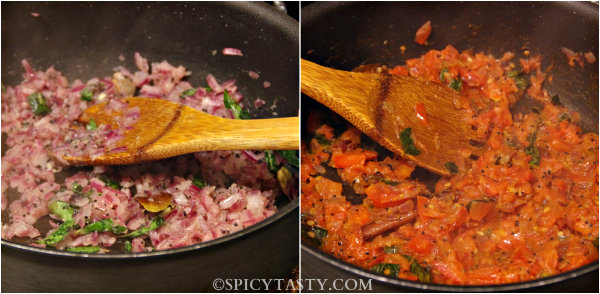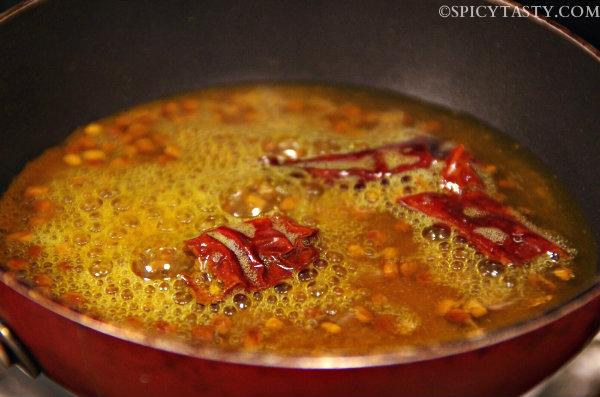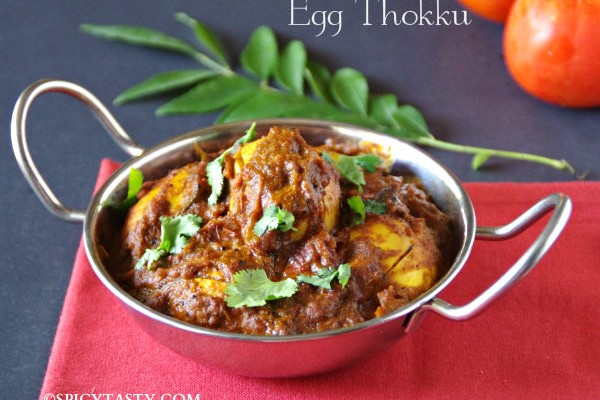 Boil and peel eggs and keep it aside. I generally boil eggs for 15 to 20 minutes.
Heat a tbsp of oil in a pan and add mustard seeds. After it splutters, add curry leaves followed by bay leaf, cardamom, cinnamon and cloves.
Add onions with a little salt and saute until onions become soft. Add ginger garlic paste and cook for a minute.
Now add tomatoes and saute until it is mashed well.
Add chili powder, 1/4 tsp turmeric powder, coriander and cumin powder and cook for 3 to 4 minutes.
Remove from heat and let it cool. In a separate pan, heat a tbsp of oil and add the remaining turmeric powder, fenugreek seeds and dried red chili. After a few seconds, turn off the stove and let it cool.
Remove the cinnamon stick and bay leaf transfer 3/4 th of the onion tomato mixture and fenugreek mixture to a blender and pulse for 3 to 4 times until a coarse mixture is obtained.
Now add it back to the pan with bay leaf and cinnamon stick along with 2 tbsp of oil. Add chopped mint and cilantro and stir well.
After a couple of minutes, add 1/2 cup or more water and let everything cook over medium heat.
In between, make small slits (4 to 5 slits) on the boiled eggs for it to absorb the essence of the curry. Do not cut it open.
Heat a tbsp of oil in a pan and add the eggs. Sprinkle some salt, chili powder and pepper and cook until it becomes golden brown on all sides.
Add the eggs to the curry along with 1/2 to 3/4 cup of water. Let it boil until the curry becomes thick and oil oozes out.
Egg thokku is ready. Garnish with cilantro and serve hot with roti/rice.