Nethili Fish (Anchovies) Kuzhambhu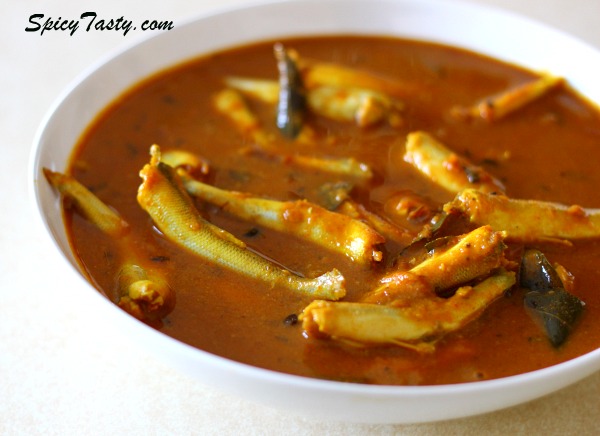 First of all I want to say a big sorry to all my readers for not posting any recipes for a while. I've great news to share with you all.
We are expecting!!!!!
Now that I am past my morning sickness and big trip to India, I am happy to post one of my favorite recipe today.
In my recent trip, my mom made this Nethili fish (anchovies) kuzhambhu and it tasted like heaven. When I came back I found some fresh Anchovies in Oriental market. I was so happy and I made this curry out of it. this fish kuzhambhu recipe is a little different from the last one I posted.
Ingredients:
Nethili Meen (anchovies) :1/2 lb
Onion : 2 tbsp
Garlic : 4
Tomato : 2 (medium)
Oil : 4 tbsp
Vadagam : 1 tbsp
Curry Leaves : 4-5
Sesame Oil : 1 tbsp
Tamarind water : 1 cup
Red chili Powder : 2 tbsp
Coriander Powder : 1 tbsp
Turmeric Powder : 1 tsp
Wash and clean the fish (cut the head and clean it). Dust them with a little salt and turmeric powder keep them aside.
Now just microwave the tamarind  with 1 cup of water for 30 seconds or soak them for an 5-10minutes. Mash it well and strain the tamarind water.
Now add red chili powder, salt, coriander powder and turmeric powder into the tamarind water.
Mix it all together.  You can taste and adjust the sour and spicy consistency from the above mixture.
Now grind the onion and garlic into coarse paste and keep them aside.
Grind the tomatoes into smooth paste and keep them aside.
Now take a wide pan add 2 tbsp of vegetable oil add vadagam (optional), fry them for a minute.
After that add ground onion paste, curry leaves saute it very well.
Once the raw smell goes off add the tomato paste and mix it all together. Let them sit in the heat for few minutes until the raw smell goes off.
Now add the tamarind water mixture
Taste the salt and adjust according to it.
Add 2 tbsp of sesame oil and bring it to boil  in medium heat till the oil floats on top.
The gravy  should taste little sour and spicy.
Finally add the fish and just bring it to a boil only once and remove from heat.
Garnish with fried curry leaves.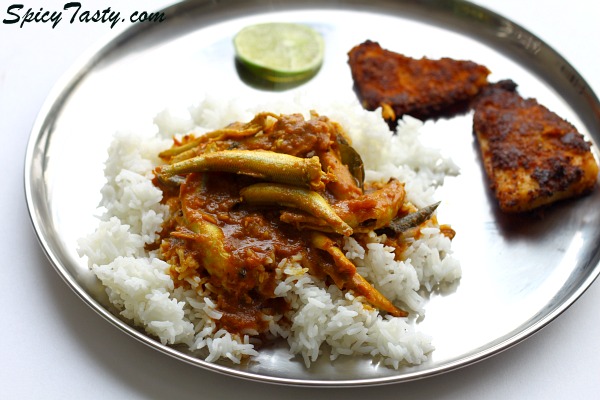 Note:
If you don't use vadagam, substitute with  some fresh garlic (2) and 1/2 tsp of fenugreek seeds.