Pepper Chicken Gravy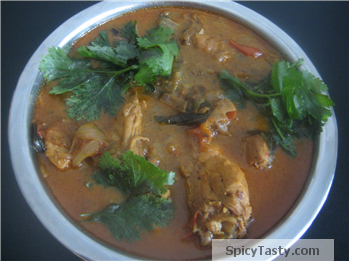 Today my husband and I were craving for something little spicy so I ended up making this pepper chicken gravy. My Mom used to make this for me and my sisters if we had a bit of cold. Pepper has this medicinal quality that helps fight the common cold.
The main flavors that stand out in this gravy are pepper and curry leaves. This is one of my favorite chicken gravies from my mom's cooking.Hope you enjoy it too. 🙂
Preparation Time: 45 minutes
No of servings: 4-5
Spice Level: 4 out of 5

Ingredients:
Chicken : 500gms
Oil : 1/2 cup
Cloves : 2
Cinnamon : 1/2 " stick
Bay leaves : 2
Cumin seeds : 1/2 tsp
Fennel seeds : 1/2 tsp
Onion : 1( cut lengthwise)
Tomatoes : 3 (Finely chopped)
Ginger and garlic paste : 2 tbsp
Yogurt : 2 tbsp
Curry leaves : 6 to 8
Turmeric powder : 1 tsp
Red chili Powder : 1/2 tbsp
Coriander powder : 2 tsp
Garam Masala : 1/2 tbsp
Black Pepper Powder : 2 tbsp
Salt : required to taste
Coriander leaves/Cilantro : for garnishing
Method Of Preparation :
Heat oil in a kadai.
Then add cloves, cinnamon, bay leaves and fry them a little bit and add cumin seeds, fennel seeds when its sputter add onions.
Fry the onions until it turns into golden brown , now add ginger & garlic paste fry them up to 3 minutes.
Now add chicken and mix it well with ginger garlic paste for a couple of minute.Slow cook the chicken with ginger garlic paste for few minutes.
Then add curry leaves and all the masalas(chili powder, garama masala, turmeric powder) one by one and mix well .
Fry them for 4 minutes.
Add yogurt, tomatoes and salt mix it well with the above mixture and sprinkle the black pepper on top of it.
Now add a cup of water and close the lid . Let the mixture boil until the chicken is cooked well.
Adjust the heat so the gravy has the right consistency of your liking.
Garnish with coriander leaves and some pepper.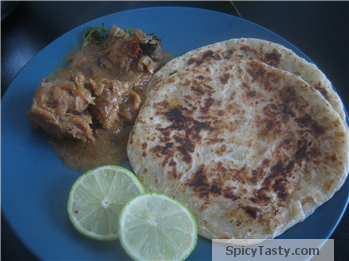 Serve it hot with parathas, chapathi and rice. 🙂
I would love to know how it turned out if you try it.
Tip:
Squeeze some fresh lime on the gravy for a tangy flavor.