Enchilada sauce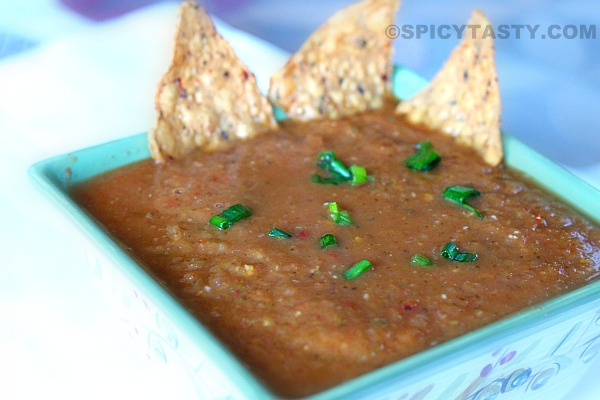 We (my husband & I) love mexican Food. I always love to make anything spicy. Enchilada is one of our fav dishes in Mexican Cuisine. I have always wanted to make that. Last sunday was our anniversary, I was gonna make a cake but decided why bake cake all the time let's do something new & different and something favorite for my husband.
I knew enchilada was one of them so I made this for my husband from scratch. It came out well. And you know what? He loved it and of course I was extremely happy, when you get compliments from your loved one.
Enchilada Casserole is coming soon. 
Preparation Time: 45 minutes
No of cups : 4 cups
Ingredients:
Red chilies : 5
Chicken Stock : 1 cup (low-sodium)
Tomatoes : 4 (large)
Poblano Pepper : 1 (small)
Extra virgin Olive oil : 3 tbsp
Onion : 1 (cut into pieces)
Tomato Paste : 1/4 cup
Garlic : 3 cloves (chopped)
Scallion : 2 (diced)
Cumin Powder : 1 tsp
Fresh Oregano : 1 tsp (chopped)
Salt : 1/2 tsp
Method Of Preparation: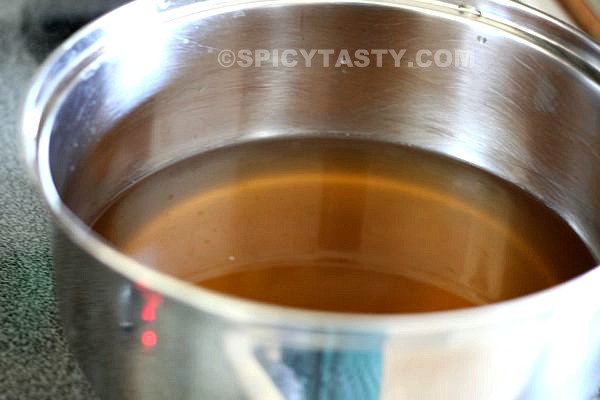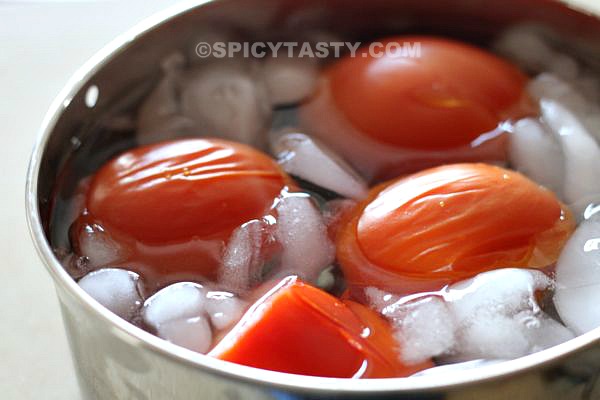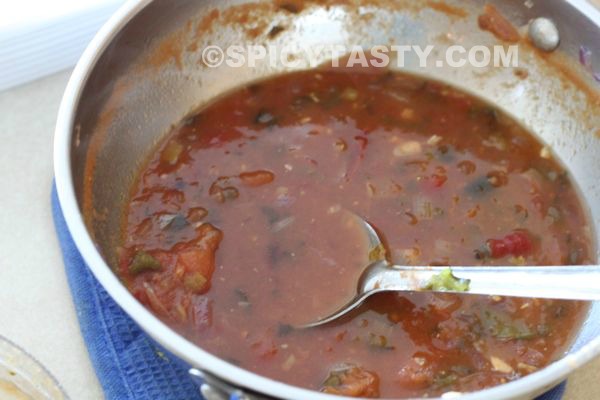 Remove seeds from the red chilies and set it aside.
Heat chicken stock and  2 cups of water in a small sauce pan and bring in to boil. After that add the red chilies and simmer for about 15 minutes or until it gets tender. Set it aside.
Fill a medium saucepan with water; bring to a boil. Fill a large bowl with ice and water. Set aside.
Now cut an X in tomato bottoms, add that to the boiling water one at a time. Simmer in heat until the skin begins to peel.
After that transfer the tomatoes to that ice water immediately. Cool it down and peel the skins out. Chop the tomatoes and set aside.
 Now place the Poblona pepper directly onto the gas stove over high heat. Turn pepper with tongs as each sides blackens. (you may also place the poblano pepper on a baking sheet and broil in the oven, turning as each side becomes charred.)
Now transfer that poblano pepper into a bowl, cover it with plastic wrap and let it sit in the steam for about 15 minutes.
After that peel off blackened skin and keep it aside. Remove seeds from the pepper and chop it into pieces. Also keep the juices that have collected in the bowl.
Heat olive oil in a large pan, add onion, scallion, and garlic saute until translucent about 10 minutes. After that add tomatoes, tomato paste, red chilies and water from step 2, Pablanos and liquid, cumin powder, chopped oregano, and salt.
Mix it all together. Cook in medium heat for 15 minutes.
After that transfer that mixture into a blender or a food processor, puree until smooth.
Return to pan. You can refrigerate it up to 4-5 days.
You can serve this with Tortilla chips or use it as a base in different Mexican dish recipes.