How to make Guacamole?
Guacamole is one of the most popular avocado recipes and it's also popular in Mexican cuisine. It's one of my favorite and easiest recipes to make. Whenever I go to any mexican restaurants I can't eat any dish without guacamole and it's also very healthy.
When you have some guests coming it's easy to make and you can serve it with some tortilla chips. I had some avocados sitting in my fridge so I decided to make this delicious guacamole . My 16 month old little boy loved this guacamole:-). Try this recipe and let me know how it turned out. If you have a variation of this recipe I'd love to hear that too

Preparation Time : 20 minutes
No Of Servings : 5-6
Spice level : 1 out of 5
Weight watchers Point(1/4 cup): 2 points

Ingredients:
Avacado : 2
Onion : 1/2 cup (minced)
Tomato : 1/2  cup (chopped finely)(flush and seeds removed)
Cilantro : 2 tbsp (chopped)
Garlic : 1 (finely chopped)
Cumin Powder : 1/4 tsp
Lime juice : 2 tbsp
Green Chilie : 1 (minced)(optional)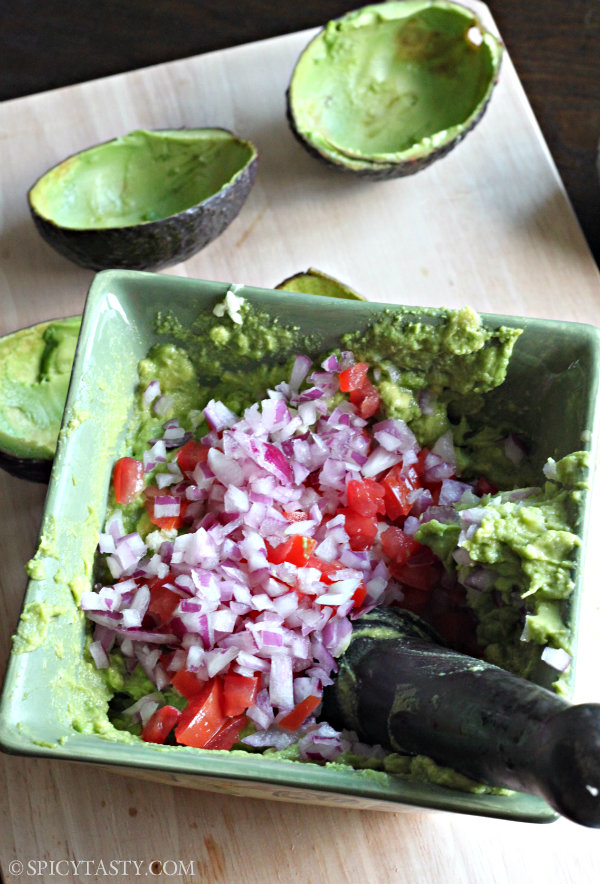 Method Of Preparation :
In a wide bowl place the scooped avocado pulp, garlic, green chilies, cumin powder and 1 tbsp of  lime juice.
Mash the above ingredients using a wooden spoon or using a potato masher until the avocados are creamy and smooth.
Now add the chopped onion, tomato and salt. Stir it all together.
 Now add the cilantro and gently mix it. Finally add the remaining lime juice and let the whole mixture sit for an hour before serving.
Serve it with tortilla chips.