Manitaropita / Greek Mushroom Pie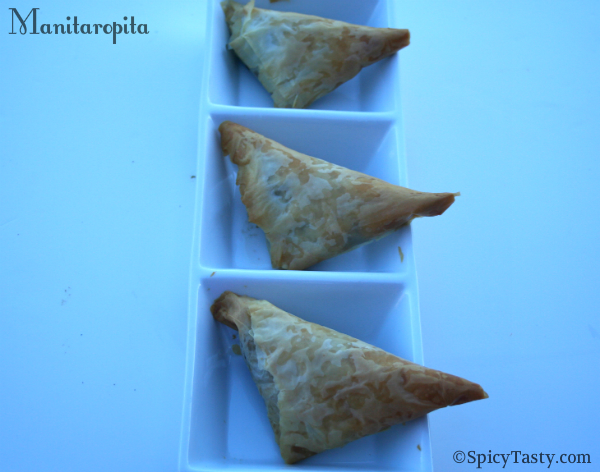 I told my cousin in Canada that I made Spanakopita  recently. Then she suggested this Manitaropita which is is similar to the Spanakopita recipe. She said that she had some frozen Manitaropita which is made mushroom and feta cheese in some wine sauce. I did this Manitaropita in my own style and that too tasted good. Here is the recipe for this easy and tasty snack.

Time of Preparation : 40 minutes
No of Servings : 4
Spice level : 3 out of 5
Ingredients:
Onions – 1/2 cup (finely chopped)
Mushrooms – 150 grams (chopped to small cubes)
Green chillies – 2 (finely chopped)
Black Pepper – 1/2 tsp to 1 tsp (according to taste)
Salt – to taste
Parsley leaves – a handful (chopped)
Garlic – 2 cloves (finely chopped)
Olive oil – 1 tsp and for brushing
Feta cheese – 120 grams
Phyllo sheets – 8
Method of Preparation:
Heat 1 tsp of oil in a pan and fry the onions followed by garlic, green chillies and fry till they become translucent.
Add the mushrooms and fry for another 2 minutes.
Add the pepper, salt and parsley leaves and fry till the mushrooms become soft.
Add the Feta cheese and combine well.
Remove from the heat and let it cool.
Now keep the phyllo sheet and spread brush it with olive oil.
Repeat the process by keeping 4 sheets one above the other.
Cut them in the center and divide into 2 halves.
Do this for another set of 4 sheets.
Now divide the stuffing to 4 equal halves.
Keep the stuffing in the phyllo sheets and roll them to triangles.
I have explained the full procedure in Spankopita Recipe.
Preheat the oven to 350 F and bake them in a baking sheet for 20 minutes.
Crispy Manitaropitas are ready.