Veg Chapati roll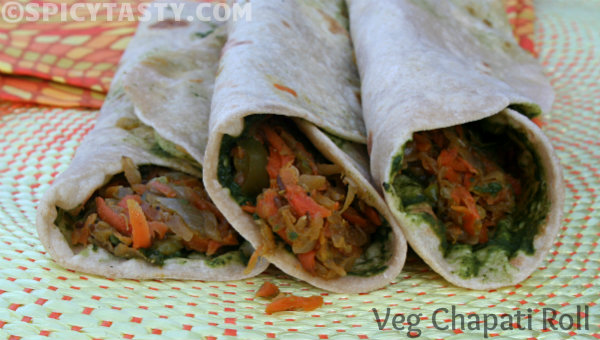 We had a potluck recently and I wanted to make something different with chapati. So I tried veggie chapati rolls for the potluck and they came really good. These Veg Chapati Rolls is a easy lunch box menu too. We can use any veggies for stuffing and we can use any masala according to our taste. My husband who does not like carrots and cabbage liked these rolls :).
Time of Preparation : 1 1/2 hours
Spice Level – 3
No. of Rolls – 12
Ingredients:
For Chapati
Wheat Flour – 1 1/2 cup
All Purpose Flour – 1/4 cup
Salt – 1/2 tsp
Oil – 1 tbsp
Water – 1/2 cup + 3 tbsp (adjust accordingly)
For Stuffing:
Carrot – 2 cups (grated)
Cabbage – 2 cups (grated)
Onions – 1/2 cup (finely chopped)
Green chillies – 6 (finely chopped)
Capsicum – 1 (thinly sliced)
Ginger – 1 tbsp (grated)
Cumin seeds – 1/2 tsp
Oil – 1 tbsp
Turmeric powder – 1/4 tsp
Cumin powder – 1/2 tsp
Coriander powder – 1/2 tsp
Garam masala – 1/4 tsp
Chaat masala – 1/2 tsp
Salt – to taste
Coriander – 2 tbsp (finely chopped)
Green Chutney – 1/2 cup
Method of Preparation:
Mix all thewheat flour, all purpose flour and salt. Add the oil and mix well.
Add water and make it to a smooth dough.
Cover it with a damp cloth for 1 to 2 hours.
In the meantime we can prepare the stuffing.
Heat oil in a pan and add the cumin seeds followed by the chopped onions.
Fry till they become translucent and add the chopped green chillies followed by the grated ginger.
Now add all the veggies followed by all the powders and salt.
Fry for 5 minutes and cover and cook for another 3 minutes.
Remove the lid and let all the water evaporates.
Add the coriander and mix well.
Now divide the dough to around 12 equal parts and roll them to 6″ diameter (like thin tortillas).
Spread around 1 tsp of green chutney over each chapati.
Divide the stuffing to 12 equal parts and keep it inside the chapati.
Roll them and yummy chapati rolls are ready.