Puliyodharai/Pulihora – Version 2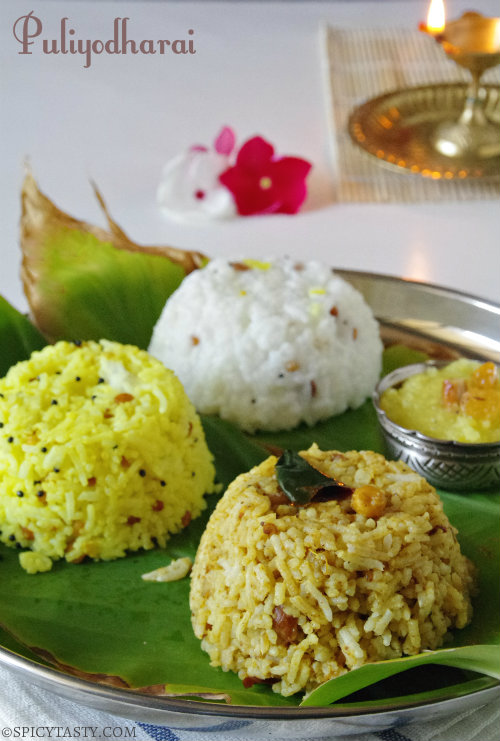 Puliyodharai or Pulihora is a traditional South Indian dish made with rice and spicy tamarind mix. The spicy tamarind mix is called "Pulikaichal" or "Puliyodharai mix". It is one of the popular prasadham recipes offered in Hindu temples. There are various methods for preparing this dish but the ingredients pretty much remains the same. My mom makes delicious Puliyodharai which tastes similar to the temple prasadham. This is her recipe and here I am sharing it with you.
Preparation time: 60 minutes
No. of servings: 5
Spice level: 3.5 out of 5
Ingredients:
Raw rice – 1 and 1/2 cups (sona masoori or ponni rice)
Tamarind – 2 lemon size
Peanuts or Chickpea – 3 or 4 tbsp
Dried red chilies – 8
Chana dal – 1 tbsp
Urad dal – 1 tsp
A few curry leaves
Turmeric powder – 1 tsp
Sesame oil – 1/3 cup
Salt to taste
Roast and grind:
Fenugreek seeds (methi) – 1 tsp
Sesame seeds – 1 tsp
Dried red chilies – 2
Method of Preparation: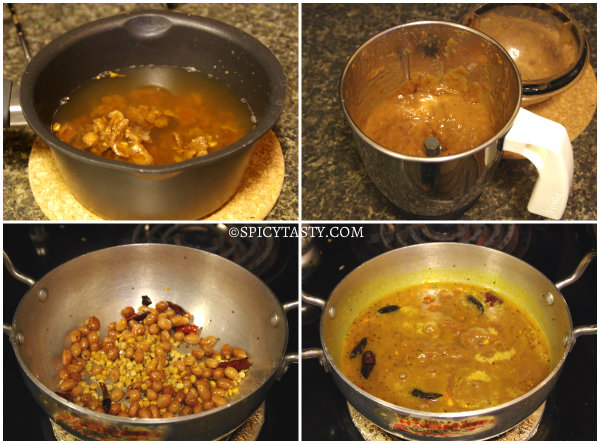 Soak chickpeas overnight or for 10 hours. If you are using peanuts then soak it in hot water for an hour.
Boil or pressure cook rice with 4 cups of water. Make sure the rice grains are separate after cooked. Let it cool.
Soak tamarind in a cup of hot water for 10 to 15 minutes. Remove the seeds if any and grind it to a paste.
Heat a pan with 2 tbsp of sesame oil and add mustard seeds. When it splutters, add channa dal, urad dal, soaked peanuts, dried chilies and half of the curry leaves. When lentils becomes golden brown add turmeric powder and mix well.
Add ground tamarind paste with a cup and half of water and let boil over low heat for 15 minutes. Add salt and 1/4 cup of oil, continue to boil until oil starts separating and the raw taste of tamarind is gone. It will become a thick paste.
Puliyodharai mix is ready.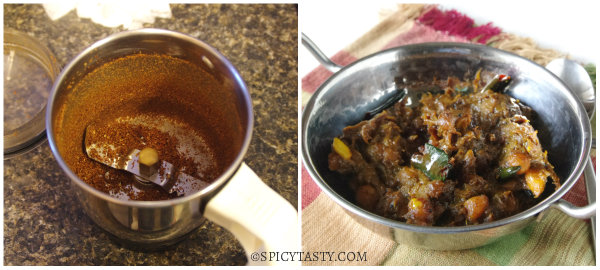 In another small pan, dry roast the sesame seeds until it splutters. Remove from pan and add a tsp of oil and roast methi seeds and dried chilies. Let everything cool and grind it to a fine powder and keep it aside.
Add required amount of the the prepared mix with rice along with the ground powder. Gently mix everything with the remaining sesame oil.
Delicious Puliyodharai is ready.