Few Kitchen Cleaning Tips
Here I am sharing a few kitchen cleaning tips with you.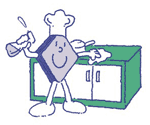 Potatoes will take food stains off your fingers. Just slice and rub raw potato on the stains and rinse with water.
To clean your microwave oven, mix together 2 Tbsp. of lemon juice or vinegar and 2 cups of water in a 4 cup glass microwave safe bowl. Microwave on HIGH for two to three minutes. Carefully remove the bowl and wipe the microwave with paper towels. Repeat as necessary.
For glass cooktops, there are special commercial cleaners that work well. Use them with a hard plastic scraper to remove burned-on food. Clean your glass cooktop as soon as it cools to avoid having to scrub burned food.
Spread a layer of activated charcoal or fresh coffee grounds over the bottom of a cookie sheet. Place the cookie sheet in the refrigerator overnight or until the odors are gone.
Yes, it does need to be cleaned from time to time. Check the drain for bits of food; use paper towels to absorb debris. Start the empty washer, then stop the cycle when the bottom is full of water. Add 2 cups of vinegar (to remove hard-water buildup) and let sit for 30 minutes. Scrub walls with a sturdy brush and finish the cycle.
To clean cast iron cookwear, don't use detergents. Just scrub them with salt and a clean, dry paper towel.
Toothpaste is a great silver cleaner.
There are more to come….