Araichuvitta Sambar – Lentil Soup (with Jackfruit Seeds/Drumstick)

I am back from my long India vacation. And started my cooking in my favorite kitchen. I had brought some jackfruit seeds from India. So I just made my all time favorite sambar (lentil soup) with my mom's recipe.
This  sambar recipe is a very traditional recipe in south India.  It's little different from the  regular sambar. If you don't have jackfruit seeds you can substitute any vegetable. This goes very well with idli, dosa and rice. Trust me it tastes like heaven!
Ingredients:
Shallots: 7-8(Peeled)
Tomato: 1
Oil: 2 tbsp
Toor dal: 1/2 cup
Mustard seeds : 1 tsp
Asafoetida: 1/4 tsp
Urad dal: 1 tsp
Jack fruit seeds: 1/2 cup
Drumsticks : 7-8 nos
Coriander Leaves : 2 tbsp (For garnishing)
Tamarind paste: 2 tbsp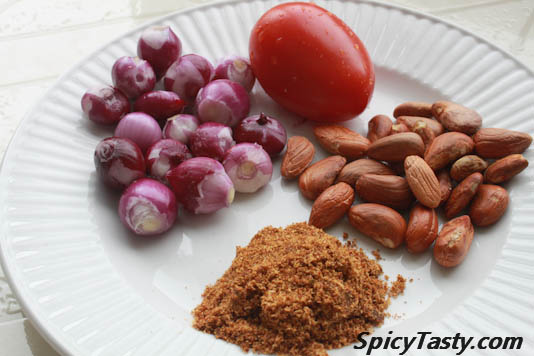 Masala to Grind:
Coriander Seeds : 11/2tbsp
Channa dal: 1tbsp
Cumin seeds : 1 tsp
Curry leaves: 5-6
Whole Red chilies: 7-8 (according to your spice level)
Grated coconut : 2 tbsp
Oil : 1 tsp
Method Of Preparation:
Pressure cook the toor dal(Red gram) with 1 1/2 cups of water for 3-4 whistles. Adjust the whistle till the gram becomes soft and fully cooked.
Roast all the ingredients (masala to grind) cool them and grind it into smooth powder.
Boil the Jackfruit seeds for 10 minutes or till it becomes fully cooked and keep them aside (you can use any vegetables instead of jackfruit seeds)
Heat oil in a pan add mustard seeds, urad dal and asafoetida after it sputters add shallots fry them till it becomes translucent.
Then add chopped tomatoes and some salt.
Fry them for few minutes or till it becomes soft after that add turmeric powder .
Add the pressure cooked toor dal (red gram) and add a cup of water. Let it come to full boil.
And then add the drumsticks, boiled jackfruit seeds and the ground masala powder .
Boil the whole mixture for 10 – 15 minutes in simmer heat. Finally add the tamarind paste and bring into full boil.
Remove from heat and garnish it with coriander leaves.