Cabbage Stir Fry (Version 2) / Cabbage Poriyal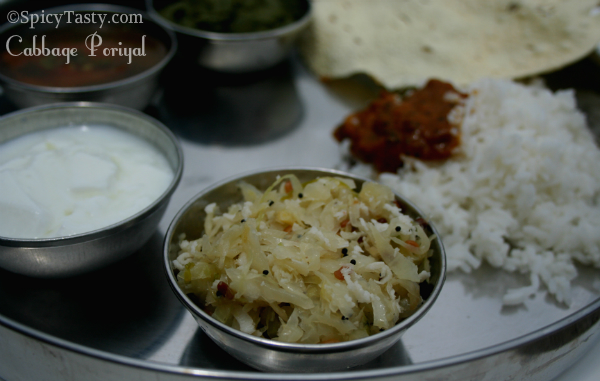 This version of Cabbage poriyal is the basic version of the poriyal but it will be very tasty and healthy. When we want to eat something light and healthy, this version of cabbage poriyal is a good choice.
Time of Preparation : 20 minutes
No of Servings : 2
Spice level : 3
Ingredients:
Cabbage – 4 cups (thinly chopped)
Mustard seeds – 1/2 tsp
Asafoetida – a pinch
Split Urad dal – 1 1/2 tsp
Green Chillies – 2 (slit lengthwise)
Grated ginger – 1 tsp
Curry leaves – a few
Grated coconut – 1 tbsp
Oil – 1 tsp
Salt – to taste
Method of Preparation:
Heat oil in a pan and add the mustard seeds followed by the asafoetida, curry leaves, split urad dal, green chillies and grated ginger.
Fry for a minute and add the chopped cabbage and salt.
Add a cup of water and cover and cook it in a medium flame until the cabbage becomes soft.
Remove the lid and cook until the water gets evaporated.
Turn off the heat and add the grated coconut.
Serve hot with sambar, rasam or vathakuzhambu.