Chettinad Egg Kuzhambu – Spicy Indian Sauce with Egg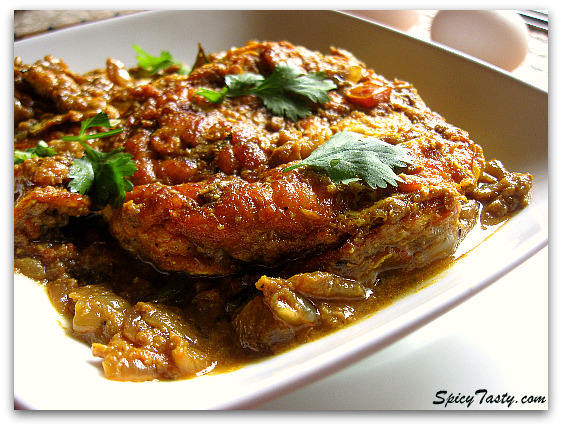 Chettinad is situated in the southern part of TamilNadu in India. This place is famous for its culinary delicacies. Their food has the special blend of spices which is unique and makes it delicious.  Chettinad Egg Kuzhambu is one of the famous dish from Chettinad as you can see where the name of the dish is derived from. I heard about this dish from my friend Sridevi. It sounded interesting and unusual with the way they made it. As I am a vegetarian, I have never tasted egg curry till I made it. And I loved it. I am not a huge fan of egg yolk. So my version is just with the white of egg. You can do either way. I am so curious to share it with you. Here you go…
Preparation time: 40 minutes
No. of Servings: 3 to 4
Spice level: 4 out of 5
Ingredients:
Eggs – 4
Chopped shallots – 1 cup
Tomato – 1
Green Chilies – 2
Ginger – 1″
Garlic cloves – 10
Cumin seeds – 1 tsp
Curry leaves – a bunch
Red chili powder –  1 tsp
Sambar powder – 1 tbsp
Whole tamarind – 1 tbsp (tamarind paste – 1 tsp)
Coriander powder – 1 tsp
Shredded coconut – 4 tbsp
Fennel seeds – 1 tbsp
Poppy seeds – 1 tsp
Oil – 3 tbsp
Salt to taste
Chopped cilantro – 2 tbsp
Method of Preparation:
Heat oil in a pan and add cumin seeds.
Once they splutter, add curry leaves, chopped green chillies and finely chopped ginger.
Crush the garlic pods and add it and saute.
Now add the chopped onions and saute till it is half cooked.
Add the chopped tomatoes, salt, chili powder and garam masala.
Allow them to cook for 5 to 10 minutes.
Add tamarind to a cup of hot water and let it sit for 3 minutes.
Now squeeze the tamarind and make a juice and filter it.
Add it to the onion tomato mixture.
Once it starts boiling add sambar powder and let it boil for 5 minutes.
In between, grind shredded coconut, poppy seeds, coriander powder and fennel seeds to a paste.
Add the ground paste to the mixture and allow it to cook for 5 minutes on medium heat and then remove from heat. Kuzhambu or sauce  is ready.
Beat eggs, add 2 tbsp of chopped onions, little salt and sprinkle 2 pinches of chili powder and mix it well. Add very little salt as the sauce will already have salt in it.
To make cup shaped omelets, I used iron ladle. You can also pour the beaten eggs to microwavable cups and make omelets.
Once the omelets are ready, transfer the kuzhambu to a pressure cooker and add the omelets and mix gently.
Pressure cook for a whistle and remove from heat.
Omelet will absorb all the essence of the spicy sauce or kuzhambu.
Transfer it to a serving dish.
🙂 Serve hot with white rice/chappathy.