Chilli Parotta (Paratha)
Parotta (or paratha), as we call it down south, has to be one of the most popular items in restaurants. Both kids and adults love it. If you are stuck with frozen paratha's like me, you could try this quickly instead of having plain parathas. All you need is a few vegetables you will find in your fridge anyway.

Preparation Time: 45 minutes
No of servings: 4-5
Spice Level: 3 out of 5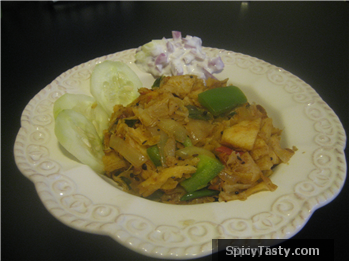 Ingredients:
Parathas : 6 (Frozen parathas)
Onions : 1 (Medium)
Tomatoes : 2 (Finely chopped)
Green Bell Pepper : 1
Cumin Seeds : 1 tsp
Curry leaves : 3
Green Chilies : 3 (Slit Lengthwise)
Red Chili Powder :1 tbsp (or) chili sauce
Turmeric powder : 1/4 tsp
Ginger and garlic paste : 1 tbsp
Salt : according to your taste
Garam Masala : 1 tsp
Lemon juice : 1 tsp
Soy sauce : 2 tsp (optional)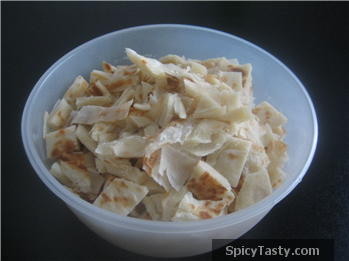 Method of Prepartion :
Heat oil in a pan add cumin seeds when it sputter add onions when its turned into golden brown add green chilies, ginger & garlic paste, saute for 3 minutes.
Now add Tomatoes, curry leaves and salt cook well for 5 minutes add all the masalas (garam masala, red chili powder (chili sauce) , turmeric powder) . Fry them for 3 minutes.
Add the bell pepper mix it well with the masalas fry them little bit.
Now cook the parathas as per the instructions given in it.
And cut them or tear them into pieces (cube like) .
Add this parathas in to the above mixture and mix it well.
Cook till the masalas and parathas are mixed together, now add soy sauce mix it well and remove from heat. Squeeze lime juice on top of it and serve hot.
Garnish it with green onions or coriander leaves.
Serve it hot with Raitha.

Tip :
If you add scrambled egg in the last or just beaten egg in the third stage, you've got Chili Egg Paratha now. 😛