Mango Pachadi – Mango curry
Mango pachadi is one of those dishes that shouts out summer like no other dish!
I've learned this recipe from my mom. In back home, every summer our house is filled with lots of raw mangoes which are freshly picked from our garden. My mom used to make this pachadi and I simply love it. I still remember those days begging my mom to make this pachadi. It's one of my favorite recipes.
I am lucky that my husband also love this dish. I made it recently and it came out really good.
Preparation Time: 30mins
No of servings: 2-3
Spice level : 2 out of 5
Ingredients:
Raw Mango : 2 (Shredded)
Onion : 1(medium) (Finely chopped)
Tomato : 1/2 (finely chopped)
Whole red chilies : 4-5 (according to your spice level)
Jaggery powder : 4 tbsp
water : 1/2 cup
Oil : 2 tbsp
Mustard seeds : 1/2 tsp
Urad dal : 1/2 tsp
Curry Leaves : 6-7
Turmeric powder : 1 tsp
salt : according to your taste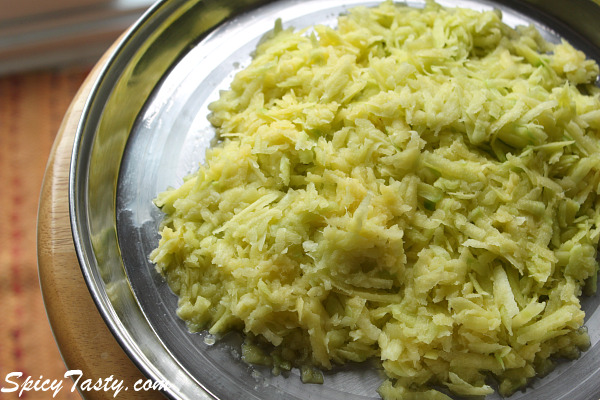 Method Of Preparation :
Heat oil in a pan add the mustard seeds , urad dal and whole red chilies. After it sputters add onion and fry them for few minutes or till it becomes translucent.
Then add tomato and curry leaves fry them again for  3-4 minutes.
Now add the shredded raw mango, turmeric powder and salt.
Add the jaggery powder  and water.
Let it boil for 10-15 minutes in slow heat.
Once it get  cooked remove from heat.
Serve it hot with rice or chapathi. 🙂
Note: You can aslo use green chilies instead of red chilies. And adjust your sweet and spice level according to your taste.