Mirchi Masala – Spicy Chili Curry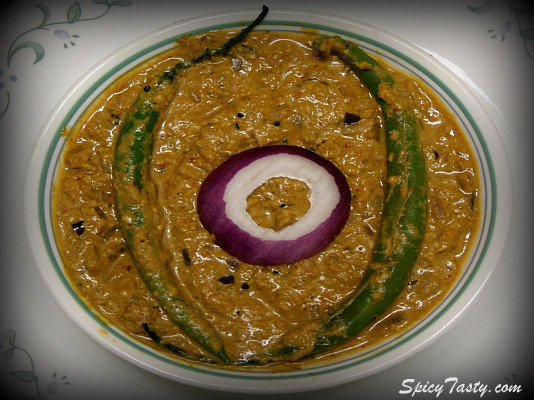 My husband is a huge fan of spicy food. We went to a restaurant and we had this Mirchi masala. We both liked it a lot and I wanted to try this since then. I tried it and it came out well. Those who likes spicy food are going to love this Mirchi masala. It goes well with Chapathi and rice.
Preparation time: 40 minutes
No of Servings: 6
Spice level: 5 out of 5
Ingredients:
Long green chillies or Jalapeno: 10(slitted in the middle)
Mustard seeds:1 tsp
Cumin seeds:1 tsp
Fenugreek seeds:1/2 tsp
Onion: 1(finely chopped)
Turmeric powder:1/2 tsp
Gingergarlic paste:1 tbsp
Red chilli powder:1/2 tsp
Coriander powder:1/2 tsp
Cumin powder:1/2 tsp
Yogurt: 1/2 cup
Tamarind paste:1 tsp
Salt: to taste
Masala to grind:
Cinnamon:1″
Cloves:2
Red chillies:4
Coriander seeds:2 tbsp
Peanuts:2 tbsp
Sesme seeds:2 tbsp
Coconut:2 tbsp
Oil:2 tbsp

Method of Preparation:
Heat very little oil in a pan, fry cinnamon, cloves, red chillies, coriander seeds, peanuts, sesme seeds and coconut grind them to paste.
Now toss the green chillies slightly and keep them aside.
Heat oil in a pan add mustard seeds followed by cumin seeds, fenugrek seeds, onions and salt.
Fry the onions till they become translucent and add the ginger&garlic paste.
Toss it for 2 minutes and then add turmeric powder followed by red chilli powder, coriander powder and cumin powder.
Fry it for 2 minutes and add little water.
Add the yogurt and the grounded paste followed by the tamarind paste.
Add some water allow it to boil for 10 minutes.
Now add the chillies and boil it for 10 more minutes.
Serve hot with chapathi or rice.