Palak Chana – Spinach Chickpea Curry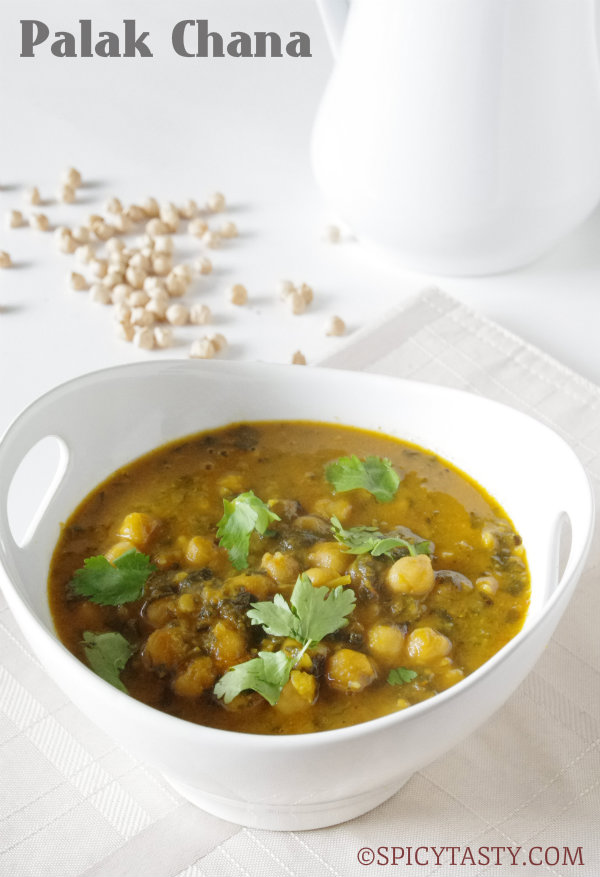 Palak Chana or Palak Chole is a delicious Spinach and Chickpea Curry served along with roti or Indian breads. Spinach and chickpea is a wonderful combination for making curries. This curry is delightful, not too spicy and filled with protein and minerals. I have used dried chickpeas which was soaked overnight in water and pressure cooked. You can also use canned chickpeas and boil it a little longer for a soft texture. So enjoy this delicious and healthy curry with roti/ rice/bread.
Preparation time: 45 minutes + soaking time
No. of servings: 6 to 8
Spice level: 2.5 out of 5
Ingredients:
Chickpeas (chana) – 1 cup
Finely chopped spinach – 3 cups
Onion – 1/2 cup
Tomatoes – 3
Ginger garlic paste – 1 tbsp
Cumin seeds – 1/2 tsp
Red chili powder – 3/4 tsp to 1 tsp
Turmeric powder – 1/2 tsp
Coriander powder – 1 1/2 tsp
Cumin powder – 1/2 tsp
Garam masala – 1/2 tsp
Chana masala – 1 tsp
Kasoori methi – 1/2 tsp
Oil – 1 tbsp
Salt to taste
Coriander leaves or cilantro for garnishing
A pinch of baking soda (optional)
 Method of Preparation:

Soak chickpeas for 6 to 8 hours or overnight. Pressure cook soaked chickpeas with a little salt, water and a pinch of baking soda (optional). You can boil the chickpeas until it becomes tender.
Chop onion and tomato to big cubes. Grind it to a paste. Do not add water. Heat oil in a pan and add cumin seeds. When it splutters add ground onion tomato paste along with ginger garlic paste. Cook over low to medium heat for 3 minutes and add turmeric powder, chili powder, coriander powder, cumin powder, garam masala. Cook for 5 to 10 minutes or until oil starts separating. Sprinkle a little water of required.

Add chopped spinach to the pan, mix well and cook until it shrinks and blends well. A thick gravy is formed and oil starts separating.
Take a handful of boiled or cooked chickpeas and grind it to a paste.
Add the ground chickpeas along with the remaining boiled chickpeas to the pan along with a cup of water. Mix well and bring it to a boil. Add chana masala and kasoori methi. Add one more cup of water and cook for another 5 minutes. Turn off the stove.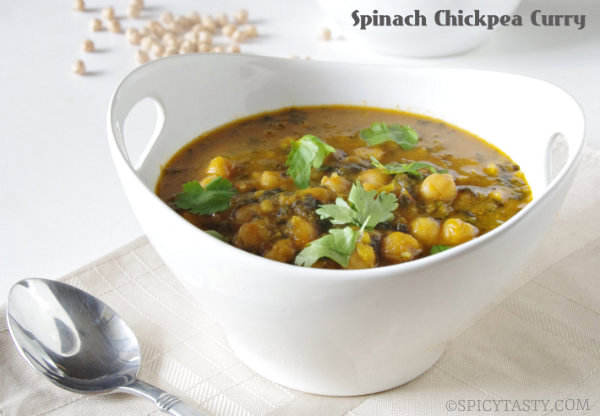 Garnish with coriander leaves or cilantro.