Palak Paneer – Cottage Cheese in Spinach Gravy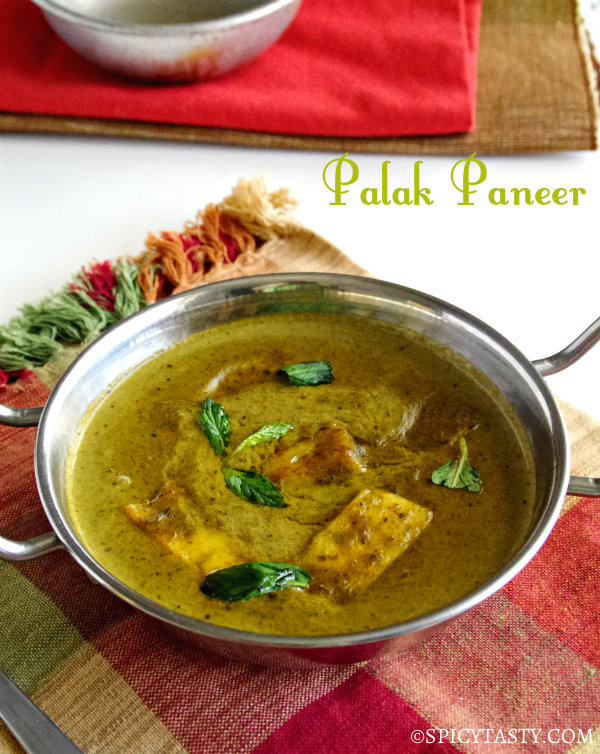 Palak Paneer is a delicious Indian curry in which cottage cheese cubes (paneer) are cooked in a spinach gravy. This is served with Indian bread or roti or naan. The creamy spinach curry and the soft paneer melts in your mouth and will be a perfect dish for a party or a get together. Though I have tried various method of palak paneer this one is my favorite and I can't wait to share it with you.
Preparation time: 15 minutes
Cooking time: 40
No. of servings: 6
Ingredients:
Fresh or frozen paneer – 250 gram
Chopped onion – 1 and 1/2 cups
Green chilies – 3
Garlic cloves – 3
Chopped ginger – 1 tbsp
Mint leaves – 1/2 cup
Cilantro – 1 cup
Spinach – 2 cups (packed)
Big tomato – 1
Butter – 3 tbsp
Oil – 1 tsp
Cinnamon stick – 1″
Cardamom pod – 1
Shah jeera (caraway seeds) – 1/2 tsp
Coriander powder – 2 tsp
Red chili powder – 1/2 tsp
Garam masala – 3/4 tsp
Heavy cream – 1 cup
Salt to taste
Method of Preparation: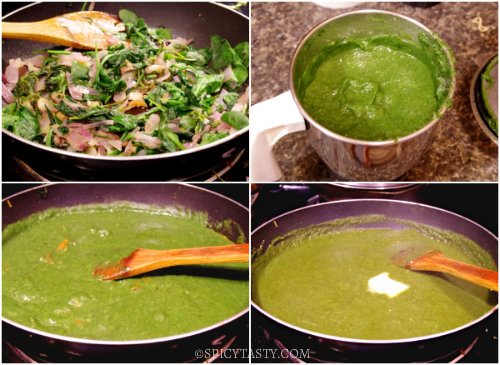 Heat a tsp of oil in a wide pan and add onions, green chilies, garlic and ginger. Saute until onion becomes translucent. Add mint leaves, cilantro and spinach and saute until the greens cook.
Let it cool and grind it into a smooth paste.
Heat a tbsp of butter in the same pan and add cinnamon stick, cardamom and shah jeera. Add tomatoes and cook for a minute and then add the ground paste. Let it cook for 3 to 4 minutes.
Add salt, coriander powder, red chili powder and garam masala. Let it cook until the raw smell is gone. Adding red chili powder is optional because we have already added green chilies.

Add the remaining butter to the gravy and let it cook over low flame 6 to 8 minutes. Add heavy cream and let it come to a boil.
In between, fry fresh paneer cubes in a tsp of butter or oil and add it to a cup of warm water and let it rest for 5 minutes. Remove from water and place it on a plate lined with paper towel.
Add fried paneer to the gravy with a cup of water and let it cook for 5 more minutes. Turn off heat.