Paneer Paratha / Cottage Cheese Stuffed Flatbread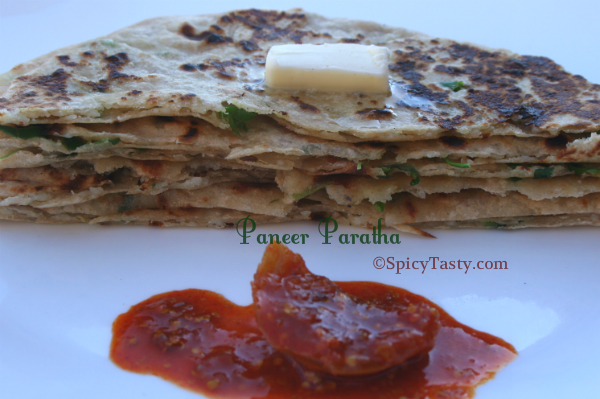 Paneer is a fresh cheese, very much common in Indian Cusine. I love to eat paneer in any form. Recently I am making different kinds of Parathas and today I tried Paneer Paratha. It came out so good and it is a easy lunch box menu. We can enjoy this Paneer Paratha just with pickle or Raitha :).
Time of Preparation : 20 minutes
Spice level : 3 out of 5
No of Servings : 12 Parathas
Ingredients:
For Dough:
Wheat Flour – 2 cups
Salt – to taste
Water – as required
Oil – 2 tsp
For Stuffing:
Paneer – 1 3/4 cups (grated)
Green Chillies – 4 to 6 (according to spice level)
Coriander leaves – 1/4 cup (finely chopped)
Cumin seeds – 1 tsp
Chaat Masala – 1/2 tsp
Salt – to taste
Oil – 1/4 cup
Mix the wheat flour, salt and oil and add water little by little to make a soft dough.
Cover it with a damp cloth or a lid for minimum half an hour.
In the meantime mix all the ingredients for stuffing except oil.
Divide the dough to 12 equal parts make smooth balls.
Roll the ball around 3″ diameter and keep around 2 tbsp of stuffing in the center.
Bring the edges to the center and cover the stuffing.
Now roll them to around 6″ diameter. Use wheat flour for dusting whenever necessary.
Heat a pan in medium heat and put the paratha.
Add little oil and turn the other side when brown spots appear.
When the other side also gets brown, remove it from the heat.
Serve hot with raitha or pickle.
Note:
We can give n number of variations for the stuffing by adding different masalas like red chili powder, coriander powder, garam masala or anything.
We can make the paratha in another way too. We have to take two balls and roll them to palm size. Then keep the stuffing on one and cover with the other chapati.
Then we have to continue rolling it from then.
This method is easier and the stuffing will not come out.