Pavakkai Pitlai (Bitter Gourd Sambar)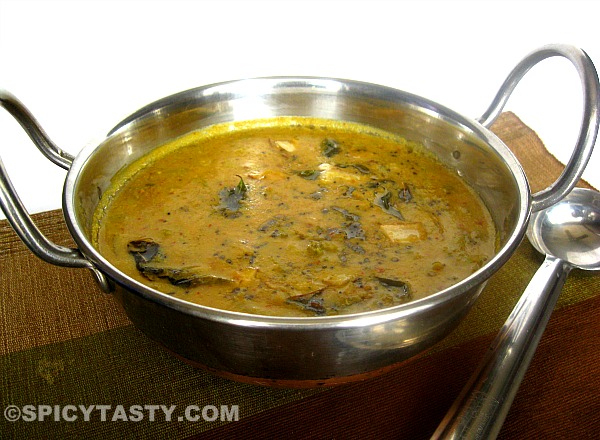 Bitter Gourd or Bitter Melon (known as Pavakkai in Tamil and Karela in Hindi), as the name indicates is a bitter vegetable with lots of precious nutrients and less calories. It is an excellent source of vitamins B1, B2, and B3, C, magnesium, folic acid, zinc, phosphorus, manganese, and has high dietary fiber.  It is rich in iron, beta-carotene, calcium and potassium. It is known for its medicinal values. My mom always force me to eat karela saying it purifies your blood and is good for your heart. I should thank her for making me eat this vegetable. Now it has grown on me and I don't hate to eat it anymore. On the contrary, my husband loves it. So I try incorporate it in my cooking as much as possible.
It is popular in Indian cuisine. In South India we shallow fry this vegetable with spices and salt, also make curries, lentil soup or sambar, Stuff them with spices and shallow fry (Stuffed Karela Fry). Today I have made a dish which is popular in Tamil Nadu and Kerala. It is called Pavakkai Pitlai. Bitter gourd is cooked in a spicy coconut and lentil sauce and served along with steamed rice and a vegetable fry or thogayal. This dish is less bitter and I have mentioned how to reduce the bitterness of this vegetable. But you will loose some nutrients this way. Atleast, you can make the karela haters to like it.  Try and let me know how it turns out.
Preparation time: 30 minutes
No. of servings: 4
Spice level: 3 out of 5
Ingredients:
Bitter gourd (Karela or Pavakkai) – 4 to 5
Turmeric powder – 1/4 tsp
1 cup of tamarind juice (from a small lemon size tamarind)
Toor dal – 1/2 cup (washed and cooked with a pinch of turmeric and salt and a few drops of oil)
Oil – 1 tsp
Coriander seeds – 1 tbsp
Channa dal – 3/4  tbsp
Long dry red chilies – 5
Shredded coconut – 1/3 cup (30 gram)
Asafoetida
Salt to taste
For seasoning:
Oil – 1 tsp
Mustard seeds – 1 tsp
Urad dal – 1 tsp
Channa dal  1tsp
Few curry leaves
Sliced coconut bits – 1 tsp (optional)
A pinch of asafoetida
Method of Preparation:
Wash bitter gourd thoroughly and cut the ends. Slit it into half and remove the pith and seeds. Chop them to pieces.
If you are using baby bitter gourd then you can use the seeds.
Boil about a cup or 1 1/2 cup of water in a sauce pan and add a big pinch of salt and turmeric powder. Add chopped bitter gourd and let it cook till it becomes tender.
In between, heat a tsp of oil in a pan and add coriander seeds followed by channa dal and red chilies. When channa dal becomes golden brown, add shredded coconut and turn off the stove.
Toss for a minute and let it cool. Grind to a paste by adding a little water. Masala is ready.
Now if you like the bitterness in the vegetable you can use the water in which it was cooked. If you want to reduce the bitterness, drain and discard the water.
Add tamarind juice to the same pan along with cooked bitter gourd and let it boil for 3 to 4 minutes.
Add cooked toor dal and mix well. Add the ground masala and a little salt. Stir well and check for salt.
Let it boil for a couple of minutes until everything comes together. Pitlai is ready.
For tadka: Heat oil in the same pan and add mustard seeds and let it splutter and then add urad dal, channa dal, curry leaves, asafoetida and coconut bits. When dal becomes golden brown, remove from heat and add it to the Pitlai.