Tomato Onion Pickle – Thakkali Vengaya Thokku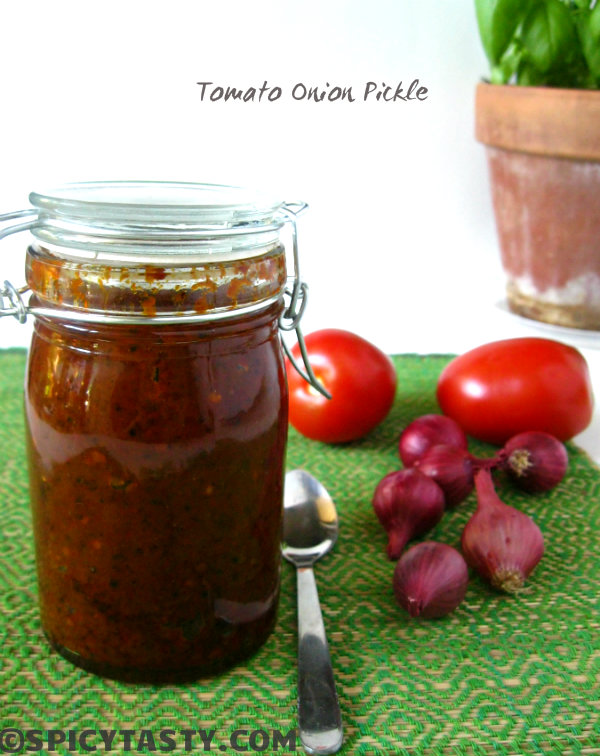 This is a quick and simple multipurpose pickle that can be served with rice or idli/dosa or roti. This is another signature dish from my mom and a container of this pickle is found in her refrigerator through out the year. Since tomatoes are not seasonal, you can make this pickle anytime of the year and enjoy it. It's spicy jam and makes a wonderful spread for bread. I would say I am obsessed with this pickle…:) You may think I have used a lot of oil but the pickle requires that much to stay fresh. Try to use sesame oil which makes it more tasty and flavorful. You can get it from any Indian stores here in the U.S.
Preparation time: 30 minutes
Cooking time: 40 minutes
Yield: 8 to 10 oz (250 grams)
Spice level: 4 out of 5
Ingredients:
Medium size tomatoes – 8
Shallots (small red onions) – 12
Dried long red chilies – 13 to 15 (adjust according to your spice level)
Fenugreek seeds (methi) – 1 tsp
Turmeric powder – 3/4 tsp
Whole seedless tamarind – 1 tsp
8 to 10 curry leaves
Sesame oil – 1/2 cup
Salt to taste
Method of Preparation: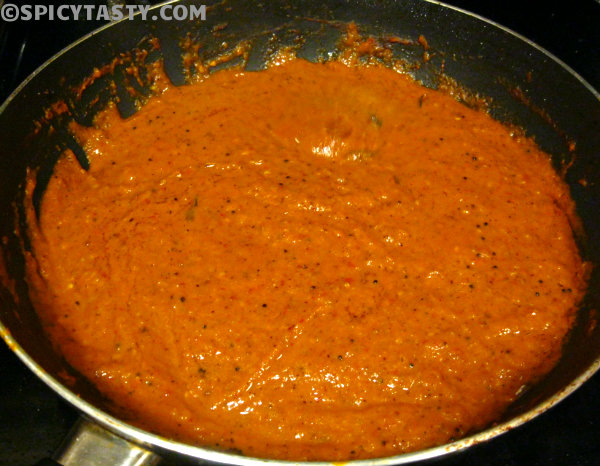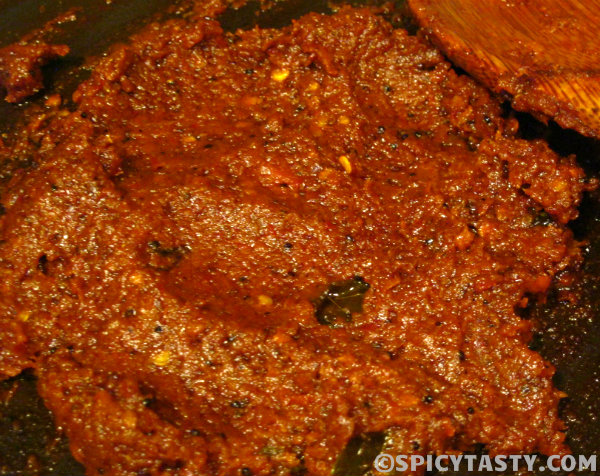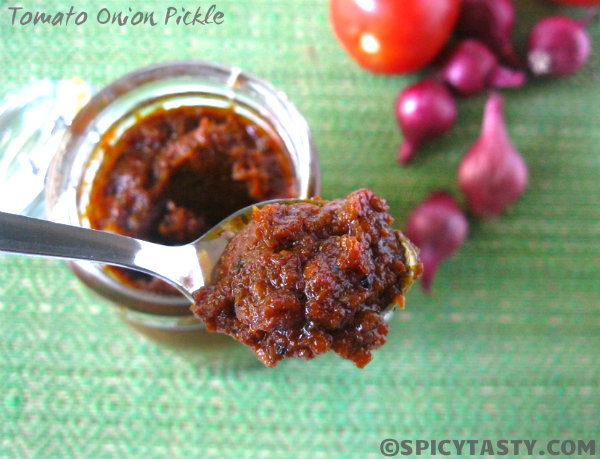 Peel and dice onions into small pieces.
Heat a tsp of oil in a wide pan and saute whole tomatoes until the skin becomes soft and starts cracking. You should be able to remove the skin easily.
Let it cool and peel the skin off.
In the same pan, heat a tsp of oil and add onions. Saute until onions become translucent and soft, not brown. Remove from pan and let it cool.
Heat  1 tsp of oil in the same pan and add fenugreek seeds (methi), dried chilies and turmeric and saute until red chilies starts browning. Turn off heat and cool it.
Grind it to a fine paste along with onions and tamarind with a little water.
Heat half of the remaining oil in the same pan and add the onion mixture.
Grind tomatoes and add it to the mixture and cook over medium heat by adding the rest of the oil slowly and stirring every 5 minutes.
Cook until it shrinks to a thick paste and oil starts oozing from the pickle (takes about 20 to 30 minutes).
Turn off heat and let it cool. Store it in an tight container and refrigerate it upto 2 to 3 weeks.