Plantain and Eggplant Curry (From Sri Lankan Kitchen)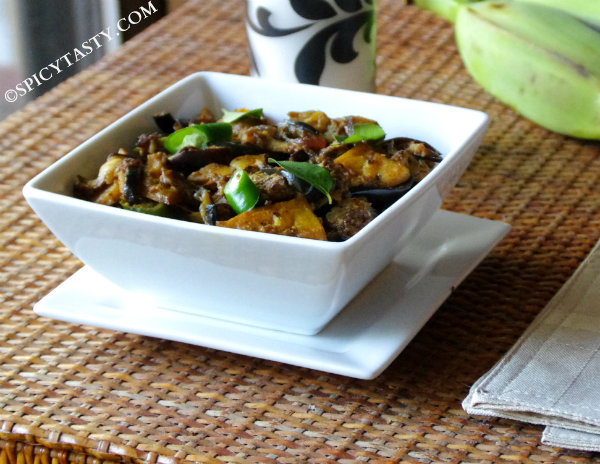 Plantain and Eggplant is a wonderful combination for making curries which I learnt recently. I learnt this tasty curry from one of my friend called Shalini, from Sri Lanka. She is my neighbor and a good cook. This is a simple dish with lots of flavors. Coconut milk plays an important part and I would prefer homemade coconut milk for making this dish since it is fresh and lighter than the store bought ones. Check out my recipe for homemade coconut milk. If you are unable to make fresh coconut milk, try substituting canned coconut milk. Enjoy this dish and let me know your comments.
Ingredients:
Indian or Chinese eggplant or brinjal – 3
Plantain – 1 (medium size, about 5″)
Chopped green chilies – 2 tbsp
Sliced onions – 1/3 cup
Curry leaves –  7 to 8 leaves
Thick homemade coconut milk – 1/2 cup
Thin homemade coconut milk – 3/4 cup
Turmeric powder – 1/2 tsp
Chili powder – 1 and 1/2 tsp
Cumin powder – 1/2 tsp
Ground black mustard – 3/4 tsp
Oil for frying and cooking
Salt to taste
Method of Preparation:
Thinly slice eggplant or brinjal and mix it with 1/4 tsp of turmeric powder and a big pinch of salt and keep it aside.
Peel the skin and cut plantain into thick slices and mix it with a pinch of turmeric and salt. Set it aside.
After 10 minutes, heat oil for frying and fry eggplant in 3 to 4 batches and place it in a paper towel or napkin to absorb excess oil.
Now fry the plantain and place it on a paper towel.
Heat a tsp of oil in a pan and add curry leaves followed by onions and green chilies and saute until onion becomes translucent.
Mix the thick and thin milk and add chili powder, mustard powder, cumin powder, turmeric powder and a pinch of salt. Mix well and add it to the sauted onions and let it come to a boil.
Now add the fried plantain and eggplants and mix gently.
Check for salt and add a little if required. Cook until it becomes a little thick.
Curry is ready. Serve hot with roti/parathas.