Podalangai kootu(Snake Gourd with Lentils)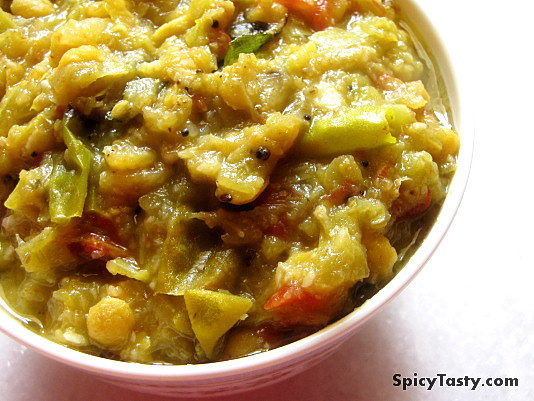 My mom made this kootu yesterday and it tasted  really good and yummy. Kootu is  a combo of vegetables and lentils. It's very easy to make and goes well with rice, vathakuzhambhu, rasam and sambhar. You can make kootu with any kind of vegetables with the same recipe only substituting the main vegetable.  After I go home I think  this  easy recipe is going to make me cook this kootu often. I am learning a lot of new recipes from my mom.
Ingredients:
Snake Gourd: 2 cups(clean up the seeds inside and chopped into slices)
Channa dal : 1/4 cup
oil: 2tbsp
Onion: 1/2 (medium)
Tomato : 1
Ginger : 1/2 tsp
Green chilies : 5
Turmeric powder: 1/4 tsp
Salt: required to taste
Coconut : 1/2(shredded)
For Seasonings:
Mustard seeds : 1 tsp
Urad dal : 1 tsp
Curry leaves : 4-5
Fennel powder : 1 tsp
Asafoetida : 1/2 tsp
Method of Preparation:
Soak  channa dal for 45 minutes and keep them aside.
Take a pressure cooker add chopped snake gourd, soaked channa dal, chopped onion,  tomato, green chilies, turmeric powder,salt and chopped ginger.
Add enough water(around 1- 11/2 cups of water) to cover the whole vegetables and pressure cook them for 4-5 whistles.
Make sure the channa dal is cooked well, if not let it stand on heat for another two whistles.
After that open the pressure cooker let it sit on simmer heat and mash  the mixture using wide laddle.
Now heat a small pan with 2 tbsp of oil and add all the seasonings after it sputters remove from heat and add into the pressure cooker mixture.
Remove the kootu from heat and add the shredded coconut mix it all together and serve it hot.