Sprouted Moong Salad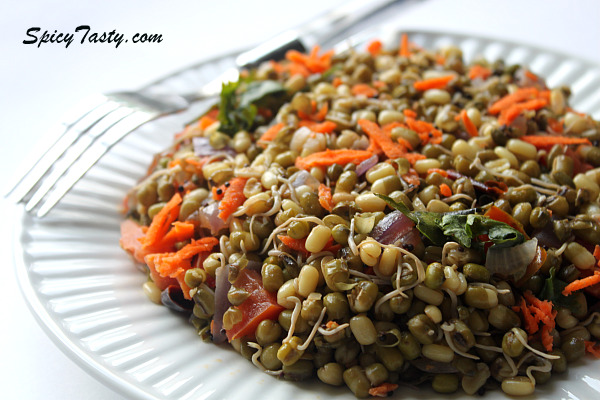 Sprouts are always healthy and even tasty when it's done right. It contains proteins and vitamins. I love sprouts and make it atleast once in two weeks. It's very easy to make and you can serve it as a lunch or even a snack. It can make a healthy alternative to any oily snacks.
Also if you are dieting you should definitely consider this for one of your meals. It's a very refreshing and healthy salad.
Preparation Time for salad: 30 mins
No of servings : 2-3
Spice level : 1 out of 5
Ingredients:
Moong sprouts : 2 cups
Onion : 1(medium)
Tomato : 1/2
Carrot : 1 cup (shredded)
Curry Leaves : 4-5
Lime juice : 1 tbsp
Whole red chilies : 2-3
For Seasonings :
Oil : 1/2 tbsp
Mustard seeds : 1 tsp
Urad dal : 1 tsp
Method Of Preparation:
How to make Moong sprouts :
Wash moong dal and soak them in water overnight.
After that wash it again, drain them and put it in a muslin cloth and tie them or in a closed  container and keep it separate for a day.
Sprinkle water once in 6 hours to keep the cloth damp.
You will start seeing the sprouts in 10 hours.
Leave it few more hrs,damping the cloth or sprinkle some water if you (use the container)in between for longer sprouts.
Microwave the sprouted moong with a cup of water  for 4-5 minutes.
Then drain the water and keep the sprouts separate.
Heat 1/2 tbsp of oil in a pan add mustard seeds, urad dal and whole red chilies (optional).
And add the chopped onion and fry them for few minutes and add the tomatoes and curry leaves. Cook for about 2- 3 minutes.
Then add the  sprouted moong with little salt, mix it all together and finally add the shredded carrots.
Garnish it with coriander leaves and add lime juice when you serve.