Sweet Potato and Chickpea Curry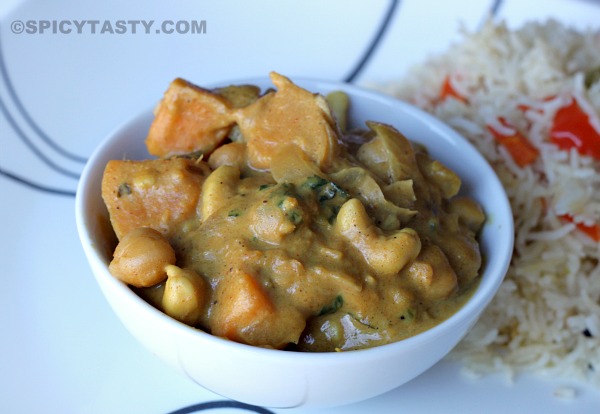 Recently I started buying more sweet potatoes for Vinay. He is such a poor eater but sweet potato is a lifesaver for me. He loves it and he can eat it at any time without any refusal. So I ended up having some sweet potatoes left over in my pantry.
I was looking for ideas for side dishes to make for the fried rice and just came across this idea for this recipe while browsing and tried making this curry. It came out really good. I was first hesitant to add chickpeas with coconut milk but felt adventurous and tried it. Guess what it came out really yummy.
Preparation Time : 45 minutes
No of servings : 3
Spice level : 2 out of 5
Ingredients:
Sweet Potatoes : 1 (medium)
ChickPeas : 1 cup (cooked)
Cashews : 1/4 cup
Onions : 1 (medium)
Coconut Milk : 1 cup
Garam masala powder : 1/2 tbsp
Green chilies : 2-3
Ginger : 2 tbsp (chopped)
Garlic : 3 (chopped)
Curry Leaves : 3-4
Red chili powder : 2 tsp
Coriander Powder : 1/2 tbsp
Method Of Preparation:
Wash and steam cook the sweet potato and cut them into cubes.
Heat oil in a pan add onions and green chilies sautee well and then add chopped ginger and garlic.
Fry them in medium heat for 2-3 minutes after that add red chili powder, coriander powder and garam masala powder.
Fry them till the raw smell goes off and now add the coconut milk  and stir well.
Now add the cooked chickpeas and cashews and cook in medium heat for 5-10 minutes.
Now finally add the cooked sweet potato and simmer for further 5 minutes.
Mix it all together and let it sit in the heat for 5 more minutes and remove from heat garnish it with coriander leaves.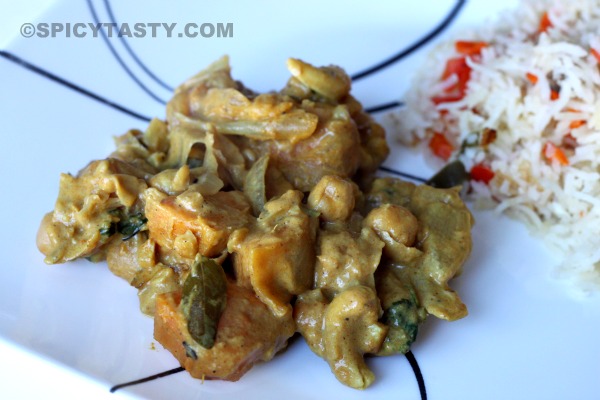 Check Out ST Giveaway