Thakkali Thooku (Version 2) / Tomato Thokku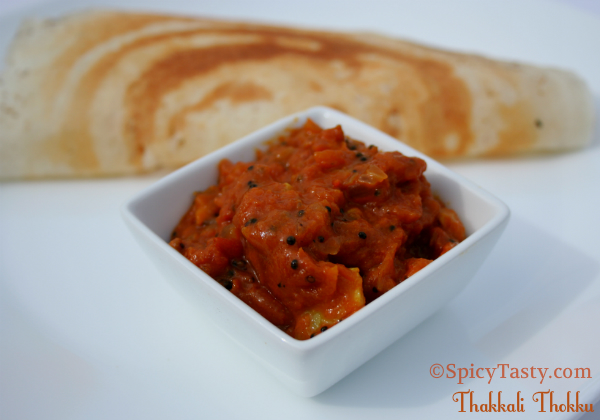 This Thakkali Thokku is the easiest side dish for Chapati or Dosa. When I do not have any veggies or when I am so bored to cook any side dish for Chapati, I make this Thakkali Thokku. Also this is the best side dish for travel. It will be good for longer time. Here is the recipe for the simple Tomato Thokku.
Time of Preparation : 20 minutes
No of Servings : 2 to 3
Spice level : 3 out of 5
Ingredients:
Onions – 1 cup (finely chopped)
Green chillies – 3 (slit lengthwise)
Garlic – 5 cloves (crushed)
Ginger – 1/2 tsp (grated)
Tomatoes (large size) – 4 (chopped)
Turmeric powder – 1/4 tsp
Sambar powder – 2 tsp (adjust according to spice level)
Salt – to taste
Oil – 2 tsp
Gingerly oil – 1 tbsp
Mustard seeds – 1/2 tsp
Curry leaves – a few
Asafoetida – a pinch
Method of Preparation:
Heat oil in a vessel and add the mustard seeds followed by asafoetida, curry leaves, green chilles and chopped onions.
Add some salt and fry till they become translucent.
Add the grated ginger and crushed garlic and fry for a minute.
Now add the chopped tomatoes followed by the turmeric powder and sambar powder.
Fry for 2 minutes and cover it with a lid for 10 minutes in medium flame.
Remove the lid and cook until you get a thokku consistency (water shouild be evaporated but it should not become dry).
Finally add the gingerly oil and mix well.
Seve hot with chapati or dosa or even rice.