Baked Jalapeno Poppers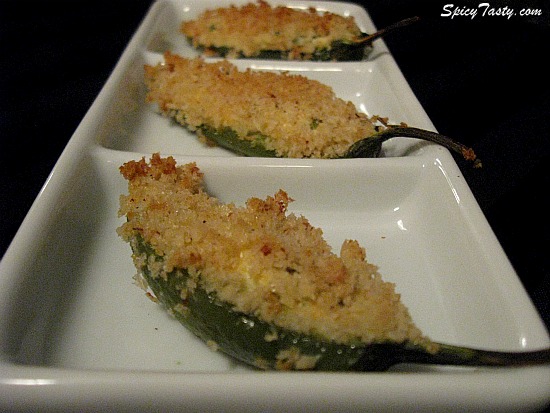 Jalapeno Poppers is a wonderful appetizer for any party. I made this recently for the Super Bowl party. My  husband and my friends liked it very much. I came across this wonderful recipe from SkinnyTaste when I was looking for a new and tasty appetizer in the internet. The main ingredients used are low fat and hence it is suitable for diet/weight watchers too. Here you go…
Remember not to touch your eyes or lips while or after handling the Jalapenos. Or you can wear gloves and work.
Preparation time: 60 to 70 minutes
Spice level: 4 out of 5
No. of servings: 8 to 10
Ingredients:
Jalapeno peppers – 10
Light cream cheese – 1/2 cup
Low fat shredded cheddar cheese – 4 tbsp
Green onions – 4
Egg whites or egg beaters – 1/2 cup
Panko crumbs – 1/2 cup (substitute for egg: 3 tbsp all purpose flour with water)
Paprika – 1/8 tsp
garlic powder – 1/8 tsp
chili powder – 1/8 tsp
Salt and fresh pepper
Cooking oil spray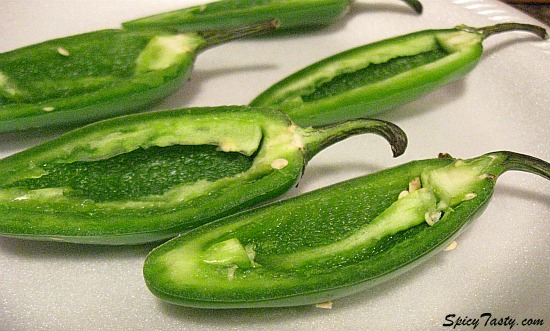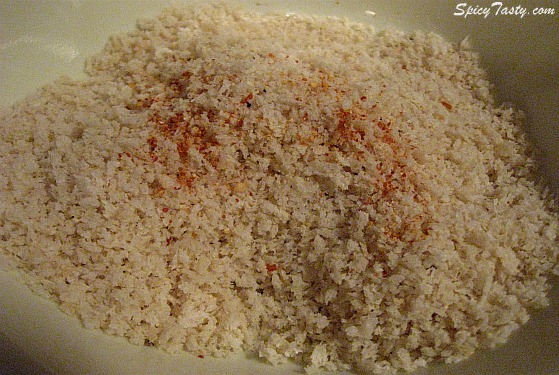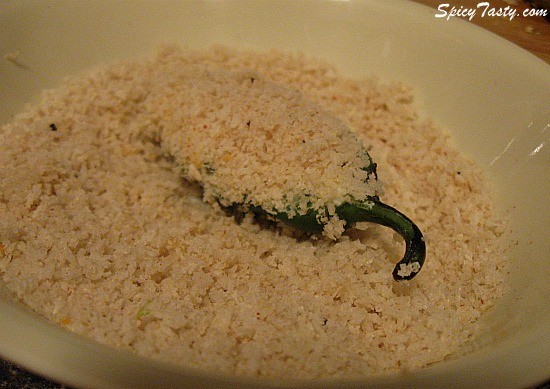 Method of Preparation:
Preheat oven to 350ºF.
Slit jalapeno peppers in half  and remove the seeds.
Combine cream cheese, cheddar cheese and chopped green onions (just the green part) in a bowl.
Combine, panko crumbs, paprika, garlic powder, chili powder, salt and pepper in another bowl. If you do not have panko crumbs, you can also use the regular bread crumbs or the crushed corn flakes.
Fill the peppers with cheese filling and dip it in the beaten egg whites or egg beaters.
Now place the peppers in  the panko crumbs mixture and cover it using a spoon.
Remove it and place it in a greased baking sheet or on a pan lined with parchment paper.
Repeat the same procedure with the rest of the peppers.
When you are about half done, the panko crumbs might not stick by forming lumps.
Replace it with fresh crumbs. This will help the peppers sticking to the crumbs easily.
Spray over the peppers lightly.
bake in oven for 20 minutes or until the cheese oozes out and the bread crumbs become brown.
For those who finds it hot and spicy, do not eat till the stem part.