Dahi Puri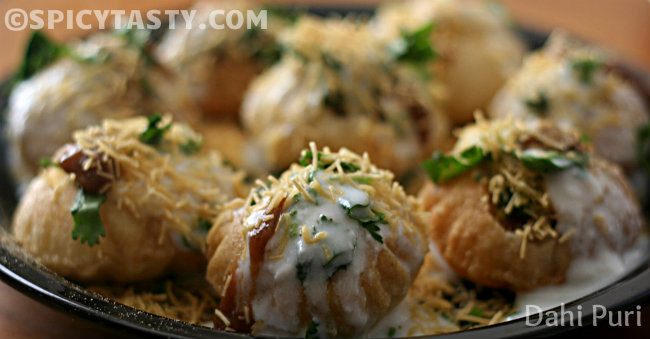 When it comes to the chaat, Dahi puri is my favorite one. The main ingredients like puris, chutneys and sev are available in all the Indian stores and hence they are very easy to prepare.
Ingredients:
Puris – 7 (homemade or store bought)
Potato – 1
White Chickpea – a handful
Onions – 1/4 cup (finely chopped)
Sev – 1/4 cup
Green Chutney – 1/4 cup
Sweet Chutney – 1/4 cup
Curd – 1/2 cup (beaten)
Coriander – 2 tbsp (finely chopped)
Red Chilli Powder – 1/2 tsp (according to taste)
Cumin powder – 1/4 tsp
Chaat masala – 1/2 tsp
Salt – to taste
Method of Preparation:
Soak the chickpea for 4 hours in hot water and boil them along with little salt.
Boil the potato and mash it and add some salt and cumin powder.
Take the puris (I have used store bought) and make a hole on one side.
Add 1/2 tsp of mashed potato and 4 to 5 chickpea.
Then add 1/4 tsp of chopped onions followed by 1/4 tsp of green chutney and 1/4 tsp of sweet chutney.
Then add the beaten curd and add the sev.
Sprinkle the red chilli powder, chaat masala and the coriander leaves.
Dahi puri is ready.