Masala Vada – Spicy Lentil Dumplings
I was wondering what to cook on saturday because I felt like eating some spicy snack with hot tea. I soaked some chana dal to make some urundai kozhambhu but suddenly I remebered this uber-popular South Indian that goes great with tea – Masala vada.
Masala vadai is a staple food in all breakfast menu as well in a lot of festival platters. It is even more popular as street food and is usually available in any street corner tea shop.
Having Masala vada with hot tea on a rainy day is pure bliss.
Ingredients:
Oil : 2 cups ( for deep fry)
Chana dal/Black gram dal : 11/2 cup
Dry red chilies : 7-8 (according to your spice level)
Urda dal : 1 tbsp
Cumin seeds : 2 tsp
Garlic : 3-4
Onion : 1 1/2 cups (Finely chopped)
Mint Leaves : 4 tbsp(Finely chopped)
Curry Leaves : 5-6 ( chopped)
Coriander leaves : 2 tbsp (Finely chopped)
salt : to taste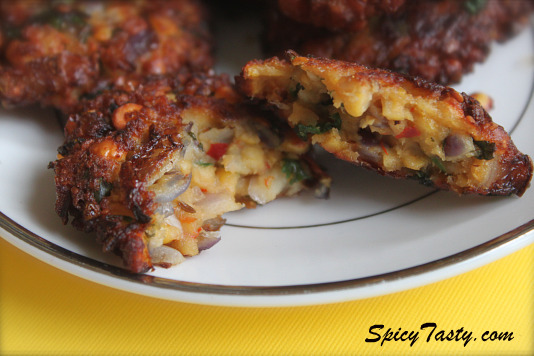 Method Of Preparation :
Soak chana dal, urad dal, red chilies for 2-3 hrs (soak urad dal separately).
After that drain the dals and take 2 tbsp of soaked chana dal separately.
Now grind the remaining mixture (chana dal, urad dal, red chilies, garlic, cumin seeds ) together.
When you grind them make sure it's coarse paste not smooth ( you should see some  broken chana dal in the paste).
Now mix it with whole chana dal  ( that you put aside), chopped onion, mint leaves, coriander leaves , curry leaves and salt.
Make  small patties out of the mixture.
And deep fry them ( make sure it's not turning  dark brown) .
Serve it hot with masala tea. 🙂