Paneer Cutlet – Stuffed Cottage Cheese Cutlet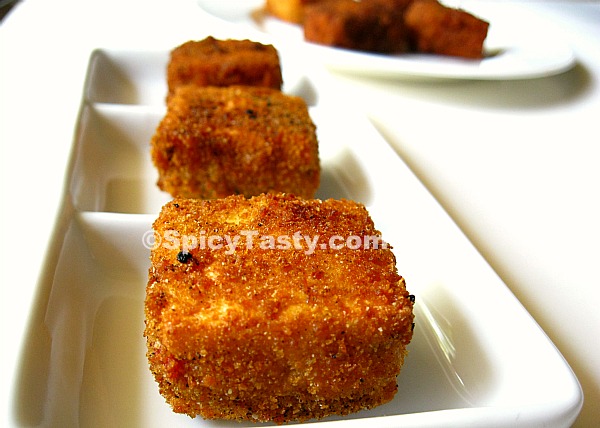 Paneer is a fresh Indian cheese used to make delicious dishes from curries to desserts. It has a rich and creamy flavor. Paneer can be bought at super market or made at home. I bought this big block of paneer from an Indian store. It was refrigerated not frozen. Ask your store keeper if you can't find it.
Coming to this dish, my mom and I love to watch cooking shows. She got this recipe from one of the Tamil channels' cooking show and asked me try it. The recipe was really interesting with the way, the paneer was used. I made a few changes to the original recipe and tried it. It passed with flying colors. Unlike the original recipe, I wanted it to be bite size since that will be easy to serve. Hope you all like it. Here you go…
Preparation time: 75 minutes
No. of servings: 20 to 23 cutlets
Spice level: 3 out of 5
Ingredients:
Block of fresh paneer – 12 oz or 340 gram
Bread crumbs
Oil for frying
For tomato chutney:
Medium size tomato – 1
Dry red chili or red pepper – 2
Oil – 1 tsp
Salt – 1/4 tsp (adjust to taste)
For mint chutney:
Fresh mint leaves – 1 cup
Green chili (2″ size) – 2 (adjust to spice level)
Salt – 1/8 tsp (adjust to taste)
For stuffing:
Boiled potato (med size) – 1
Chili powder – 3/4 tsp
Salt – 1/4 tsp (adjust to taste)
Chopped cilantro – 2 tbsp
1 carrot – thinly shredded
1/2 beetroot – thinly shredded
For batter:
All purpose flour or maida – 1/2 cup
Water
Salt to taste
Method of Preparation: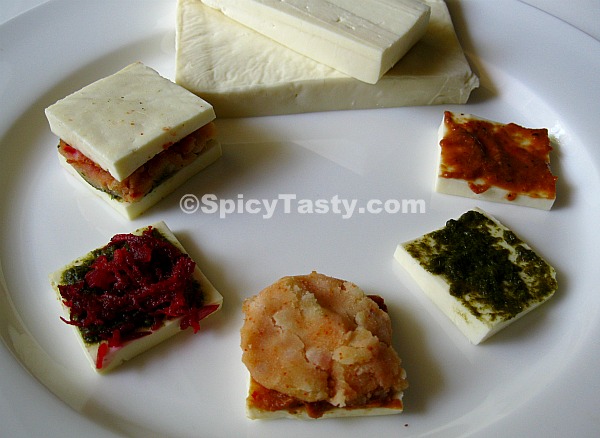 Cut the big block of paneer into two halves.
Again cut each half along it thickness. Now you will have four slices of paneer.
Cut them into bite size pieces as you see in the picture.
To prepare mint Chutney: Grind mint, green chilies and salt together with a little water to form a fine, thick paste.
To prepare tomato chutney: Heat 1 tsp of oil in a pan, add the dry chilies. After a minute, add cut tomatoes and salt. Fry till the tomatoes are completely cooked and mashed. Remove and cool. Grind it to paste.
Take a bowl, peel and mash your boiled potato and add red chili powder, cilantro and salt. Mix well.
Mix the shredded carrot and beetroot in a bowl.
To prepare batter: Mix all purpose flour or maida with water and salt and make a thin batter. Taste your batter for salt and add if required.
Keep your bread crumbs ready in a plate.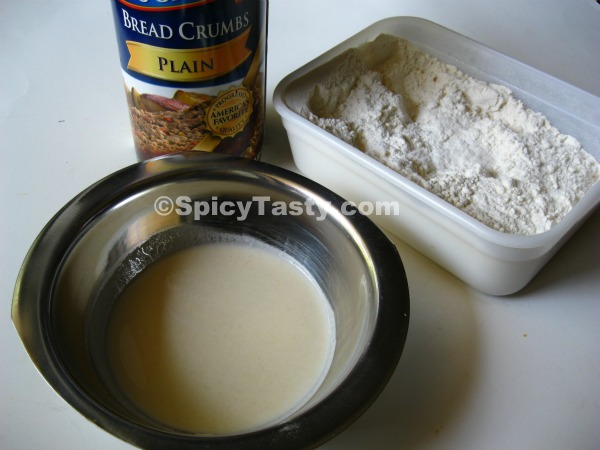 Now from your paneer slices, take two of them (of same size).
Spread mint chutney on the first slice and tomato chutney on the second. Now a spoon full of mashed potato on to top of tomato chutney and some  shredded carrot and beetroot on top of mint chuney.
Bind them together. Repeat the same procedure with the rest of the paneer slices.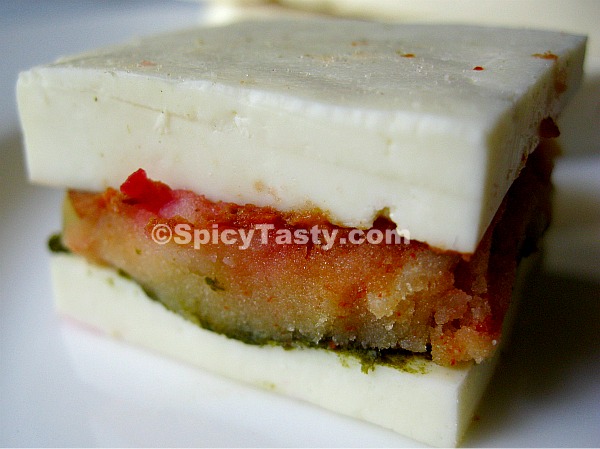 Heat oil in a deep frying pan. Now that the paneer sandwiches are ready. Let's fry them.
Stir your batter and add little water if it has become thick. Dip the sandwich in batter and drop it in breadcrumbs.
Roll and let the breadcrumbs stick to it. and fry it in hot oil till it becomes crisp and brown.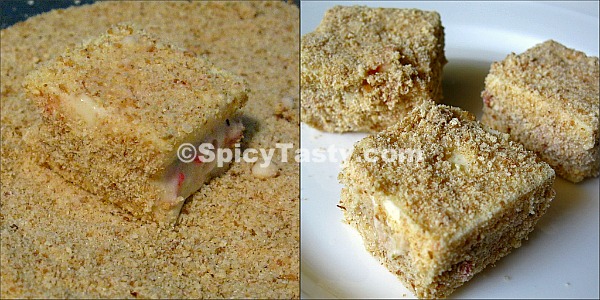 Fry the rest of the paneer sandwiches and serve it with ketchup or hot sauce or ranch or any of your you favorite sauce and enjoy.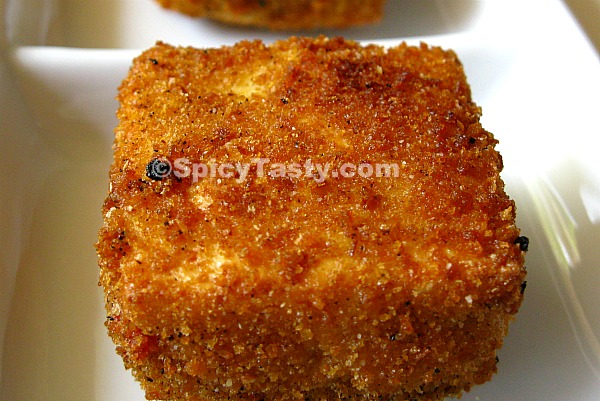 Note: Serve hot but not too hot cause it hurts your tongue. If you have left overs and if you serve for the next day, heat it in a conventional oven for 5 to 10 mins before serving. If not heat it over a hot pan.
I would like to submit this recipe to LGSS (Let' GO Stuffed Series)