Stuffed Bread Rolls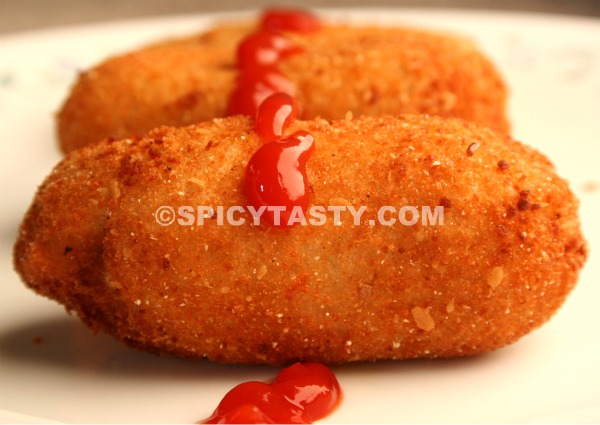 My friends visited my place for the long weekend. I got two packets of bread which I did not use. I did not want to waste them. One of my friends make bread rolls often. So I tried these bread rolls and they are as tasty as cutlets. They are really a wonderful snack with tea :).
Time of Preparation : 45 minutes
Spice level : 4
Number of pieces : 20
Ingredients:
Bread – 20 slices
Potato (medium size) – 4 (boiled and mashed)
Peas – 1/2 cup (boiled) (optional)
Onion (medium size) – 1 (finely chopped)
Green chillies -4 (finely chopped)
Garlic – 3 cloves (finely chopped)
Ginger – 1 tbsp (grated)
Turmeric powder -1/4 tsp
Sambar powder – 1 tsp (adjust according to spice level)
Red chilli powder – 1 tsp
Coriander powder – 1/2 tsp
Pepper powder (freshly ground) – 1/4 tsp
Garam masala powder – 1/2 tsp
Salt – to taste
Chopped coriander leaves – 2 tbsp
Oil – for frying
Bread crumbs – 1/4 cup (optional)
Water – to wet the bread slices
Heat oil in a pan and add the green chillies followed by ginger, garlic and chopped onions.
Fry till they become translucent and add turmeric powder, sambar powder, red chilli powder, coriander powder and pepper powder.
Fry for 2 minutes and then add the mashed potatoes, garam masala powder and salt.
Mix well and add the boiled peas.
Then add the chopped coriander leaves.
Now the stuffing is ready.
Let it cool and in the meantime, take the bread slices and cut the edges as shown in the pic.
Take a bread slice in the hand sprinkle some water on both the sides and press them in the palm so that the extra water is removed.
Take 2 tsp of the stuffing and keep it in the middle of the bread.
Roll the bread and seal it at the ends.
Dip the rolls in bread crumbs and deep fry them till golden brown.
Serve hot with ketchup.
Note:
We can deep fry directly without dipping in the bread crumbs. I have tried both (see the second pic). But the bread crumbs make the rolls more crispy.
We can use any vegetables or even paneer and change the stuffing according to our own taste.
To avoid deep frying we can put it in a pan as we do for Aloo tikki or we can keep it in oven at 350F for 40 minutes.