Homemade White Bread and Dinner Rolls
Homemade bread and dinner rolls are very easy to make. My bread is made from the scratch and it's fresh without any preservatives. I have always wanted to bake bread at home and enjoy it for the breakfast and finally my dream came true. There are a lot of recipes online for homemade bread. I was so confused about which one to follow. Finally, I got a good recipe on youtube which was posted by Candra. It was easy and the result was amazing. I used the dinner rolls or pav buns for the Pav bhaji dish that I have recently shared with you all. Enjoy your breakfast with the fresh home baked bread and let me know your comments.
Preparation time: 2.5 hours
Cooking time: 20 to 25 minutes
Yield: 12 dinner rolls and One big loaf
Ingredients:
All purpose flour – 6 cups
Vegetable shortening – 1/4 cup
Granulated sugar – 1/4 cup
Quick rise yeast – 1 and 1/2 tsp
Warm water – 2 cups
Salt – 1 and 1/2 tsp
Method of Preparation:

In a big bowl, add 3 cups of flour and shortening and mix well. Add sugar and yeast. Blend everything together. Add 2 cups of water and stir everything together with a rubber or a wooden spatula.


Now add one more cup of flour and mix well followed by another cup of flour and salt. Mix everything well and transfer it to a clean working surface or counter and start kneading.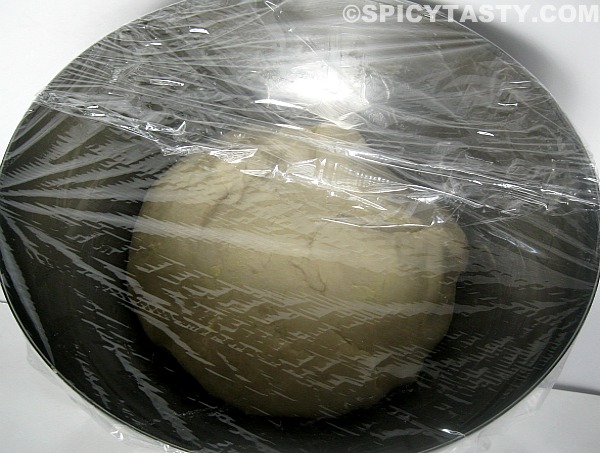 Slowly add the remaining flour and knead for 10 minutes until it is smooth and not sticking to the counter or your hands.
Grease a big bowl with some shortening and place the dough and grease the dough with shortening. Cover it with a clean wet towel or plastic wrap and keep it in a warm place to double in size. It takes about 2 hours.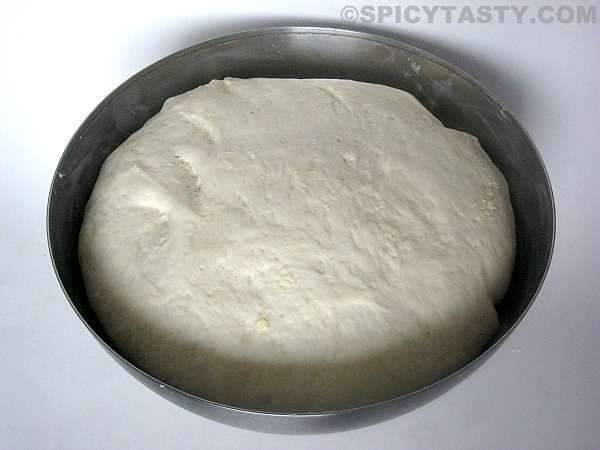 After it is doubled in size, remove the towel and punch it down. Divide it into half. One for making dinner rolls and the other for bread loaf.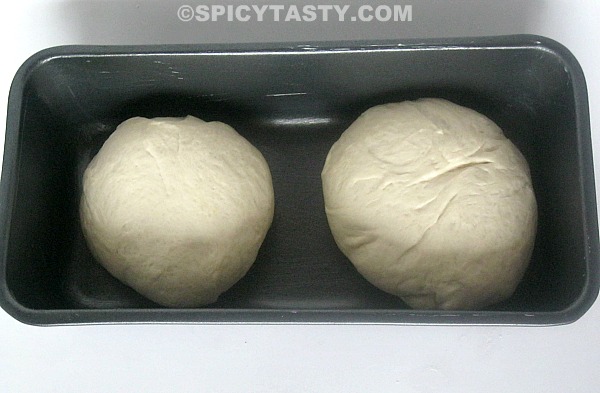 Take one half and make it into a nice oval shape by rolling it gently without pressing too much and then place it in a greased loaf pan. You can also divide it into two portions and roll into balls and then place it in a greased pan (just like how I did). Cover it with a clean moist towel and let it raise for one more hour.


Divide the other portion of dough into two parts and then stretch it out and cut into 12 equal portions. Roll each portion into a smooth ball by rolling it gently in anti clockwise motion. Place the rolls in a greased 12″ pan and cover it with a clean moist towel and let it raise for an hour till it puffs up nicely.


Now that it has nicely puffed up, preheat your oven to 400ºF (205ºC) and leave it for 15 to 20 minutes.
Place both the pans in the center rack and bake for 20 to 25 minutes or until it is golden brown. Time varies according to your oven.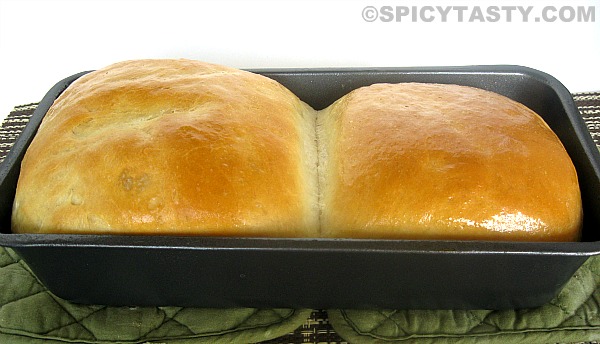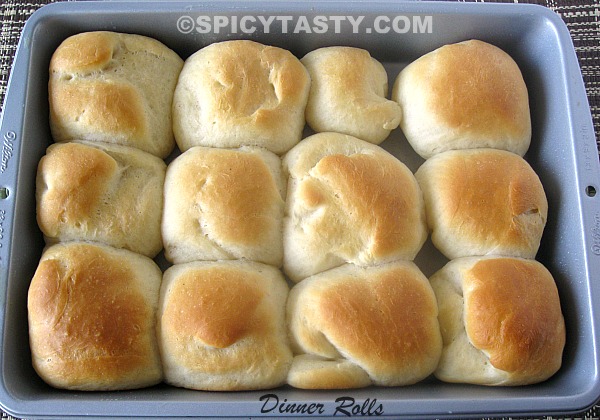 Remove the freshly baked bread from the oven and brush it with butter and let it cool. Fresh dinner rolls and bread loaf are ready to serve.