Pav Bhaji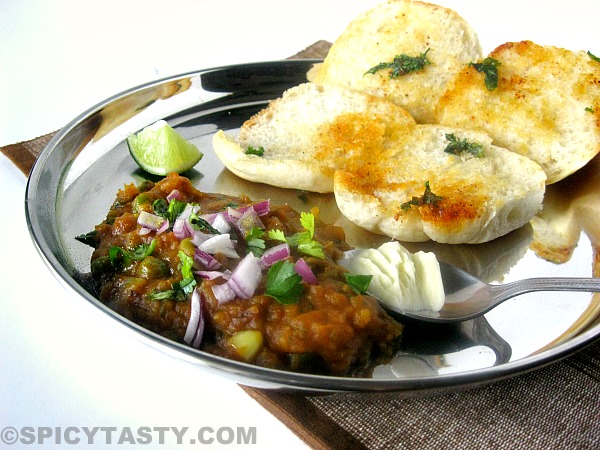 Pav Bhaji is a popular Indian fast food dish from Mumbai. It is a mixed vegetable curry with a special blend of spices (Pav Bhaji masala) that you can find in any grocery store in India or the Indian stores in the U.S. It is served with Pav (buns) instead of roti. This dish made its way from street food to restaurants and slowly became popular all over India. The recipe varies from place to place but the general procedure remains the same. Mashed potatoes and sauteed onions and tomatoes with a few other vegetables and spices are blended together to make this dish. Pav is toasted on a griddle with lots of butter. This is a comfort dish and the right place to enjoy is from the street side vendors. Here I am bringing the street food to your home. To enjoy this dish I baked fresh Pav (dinner rolls) at home and it was amazing. Try and let me know how it turns out.
Preparation time: 50 minutes
No. of servings: 8
Spice level: 4 out of 5
Ingredients:
One big onion finely chopped (about 2 cups)
Tomatoes – 2
Green bell pepper – 1
Big potatoes – 2 (cubed and boiled)
Finely chopped or grated cauliflower – 2 cups (6 to 8 big florets)
Fresh or frozen green peas – 1/2 cup
Oil – 2 tsp
Green chilies – 4
Ginger garlic paste – 2 tsp
Turmeric powder – 1/4 tsp
Chili powder – 1 tsp
Pav bhaji masala – 1 and 1/2 tbsp
Butter – 3 tbsp
Chopped cilantro for garnishing
Juice from half lime and a few lime wedges
Salt to taste
Chaat masala – 1 tsp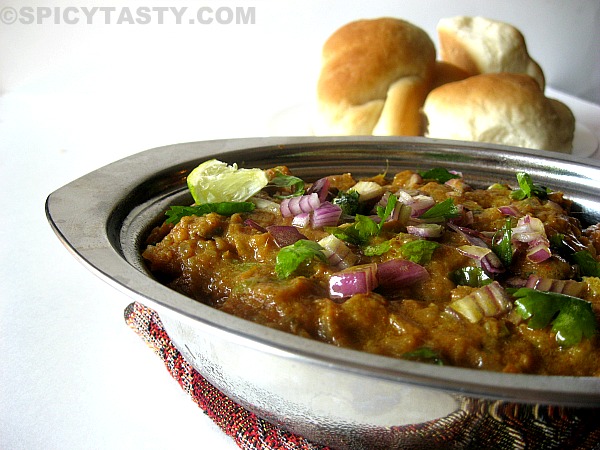 Method of Preparation:
Heat oil in a pan and add chopped onion and a little salt. Saute until translucent.
Add chopped green chilies and ginger garlic paste and saute for another 2 minutes.
Add chopped tomatoes and saute till it is completely mashed.
Add turmeric powder, chili powder, salt and cook for 3 to 4 minutes.
Wash and boil green peas with some water until soft, for about 2 to 3 minutes in the microwave.
Now add all the vegetables to the onion tomato gravy and mash with a potato masher and mix well.
Add Pav Bhaji masala and 3/4th  cup of water. Cover and cook for 20 minutes over medium heat. Stir and mash for every 5 minutes. Add some more water if required.
Add 3 tbsp of butter, mix and cook for another 5 minutes or until all the vegetables are mashed and a nice consistency is obtained.
Transfer it to individual serving bowls and add a dollop of butter (optional), sprinkle some chopped onions, a pinch of chaat masala, some cilantro and lime juice.
Heat a tsp of butter and sprinkle some chili powder and toast the Pav or buns. Serve with the prepared bhaji.