Cake Pops
We wish all our readers a Happy and Wonderful New Year 2012…May this year bring you joy and prosperity… 

Cake pops are the cutest and delicious baked food I have eaten. Today I have made a white cake batter and baked it into cake pops and then I dipped them in white and milk chocolate and decorated using simple techniques.
This recipe is about making cake pops using the Cake Pop Maker that I bought recently during the Thanksgiving. It's a Bella Cake Pop Maker for $8.99 after a $10 rebate from Macy's and I would say it was a great buy. Like everyone, I was not sure how the cake pops are going to turn up but after seeing the results, I was amazed. The pops were moist and soft and it was very easy and quick to make. I am in love with my Pop Maker now. And I would definitely recommend this product to anyone.
Preparation time: 4 hours (including resting time)
No. of servings: 55 to 60 cake pops
Ingredients:

For Cake Pops (Basic white cake batter):
Unsalted butter (at room temperature) – 1/2 cup (1 stick)
Granulated white sugar – 1 cup
Large eggs – 2
Pure vanilla extract – 1 tsp
All purpose flour – 1  3/4 cup
Baking powder – 2 tsp
Cream of tartar – 1/8 tsp or a pinch
Salt – 1/4 tsp
Milk – 1/4 cup
Oil – 1/4 cup
For Coating and decorating:
White chocolate – 12 oz (340 g)
Milk chocolate – 12 oz (340 g)
Sprinklers for decorating
Lollipop sticks or tooth picks or skewers cut into half
Styrofoam block  
Method of Preparation: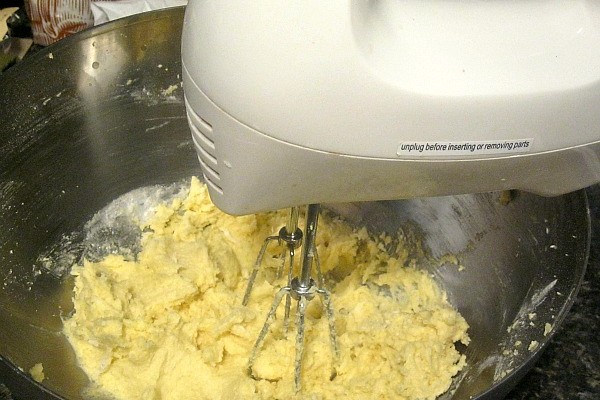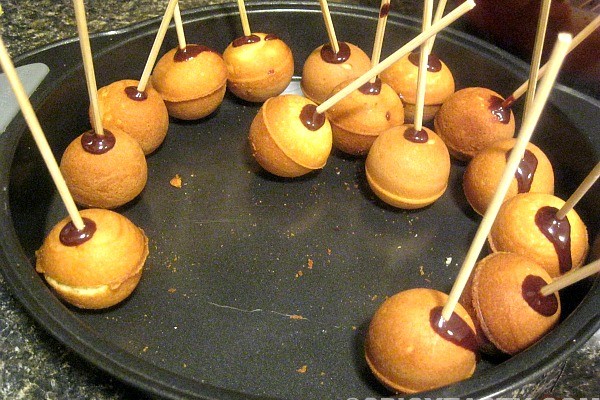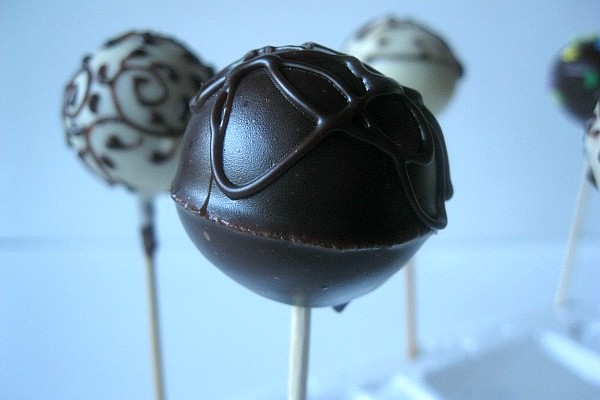 Preparation of cake batter:
Cream butter in a mixing bowl with your electric mixer or hand mixer.
Add 3/4 cup of sugar and beat it until fluffy and creamy. Scrape the sides occasionally.
Separate egg yolks and white. Add egg yolks to the mixing bowl one by one beating everytime.
Add vanilla extract and beat until everything is mixed well.
Sift or whisk together flour, baking powder and salt in a bowl.
Gradually add this along with milk and oil in three batches and beat at low speed until mixed. Do not over mix.
In a separate bowl, add egg whites and beat until foamy. Add cream of tartar and beat until soft peaks are formed.
Add the rest of the sugar (1/4 cup) slowly and beat until stiff peaks are formed.
Now gently fold in the egg whites into the prepared batter without over mixing.
You can use a piping bag with plain tip or a big ziplock bag for piping the batter.
Place the ziplock bag or a the piping bag in a tall glass and fill it with batter.
Preheat your Cake Pop Maker. This may take about 3 minutes. Follow the instruction in your booklet to clean the pop maker and for other useful tips before using it for the first time.
Grease the pop maker with cooking spray or use butter. Cut the end of the ziplock bag and pipe the batter until almost full. Once you make the first batch you will know how much batter to squeeze in.
Bake for 5 to 6 minutes and remove it and transfer it to another pan for cooling.
Repeat the procedure until the batter is done.
Dipping the Cake Pops: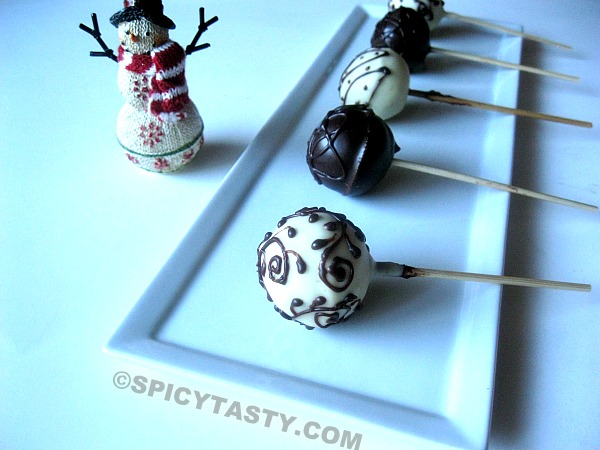 Melt 1/4 cup white or milk chocolate using microwave or using a double boiler.
Take a few cake pops (15 to 20). Dip the lollipop stick or skewers in the melted chocolate and insert it at the bottom of the cake pop and freeze for about 20 minutes.
You can use an empty egg box for freezing.
Few minutes before taking it off from the freezer, melt all the white and milk chocolate leaving 1/3 cup each for decorating. Use a double boiler for melting.
Take the pops out of your freezer and keep your styrofoams ready.
Dip the pops in chocolate sauce and let it drip completely and then stick it in the styrofoam. All you need is some patience to hold it until the last extra drop of chocolate drips off from the pop.
Prepare the other cake pops using the same procedure and refrigerate. You can also refrigerate it overnight before decorating.
Decorating the cake Pops:
If you want to decorate it using simple techniques, just sprinkle some colorful sprinklers on top and refrigerate it until served.
For other decorations, refrigerate the pops atleast for an hour before decorating .Now melt 1/3 cup of white and milk chocolates using a double boiler.
Make two cones out of parchment paper or use a smaller ziplock bag. I would prefer a parchment paper cone.
Fill each cone with white and milk chocolate.
Use your imagination and decorate the pops. Refrigerate until serving.