Pineapple Cake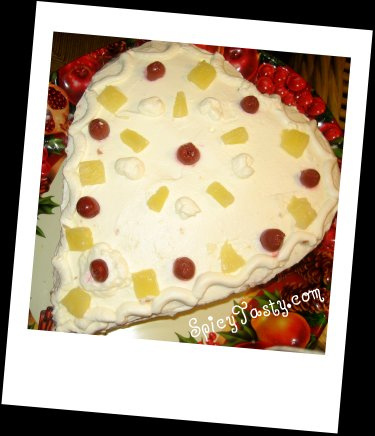 This Pineapple Cake is a wonderful juicy two layered cake, with whipped cream frosting and a few pineapples chunks and maraschino cherries. Yesterday was my First Wedding Anniversary. So I wanted to surprise my hubby with his favorite cake. Both of us love the Pineapple Cake from La Bonne Bouchee, a popular French cake shop here. I thought I can order it from there. But then, it'll always be special if we bake it for them with right? So I decided to search for a good recipe and I took a few tips from VahvrehVah.
I made a two layered heart shaped cake. For that I used two baking trays of  13 by 9 inche. You can do any shape of your choice. First I made the base cake and then cut it into two heart shape layers. You can either use store bought cake mix or do it yourself. I have also given the procedure for the base cake. It's simple to follow and the result will be amazing. Here yo go…
Ingredients:
French Vanilla cake mix – 1 1/2 packets (I used Duncan Hines)
Eggs – 5
Melted butter
Evaporated milk – 1 can
Pineapple chunks – 1 can
Heavy whipping cream – 1 pint (473 ml)
Pure vanilla extract – 1 tsp
Sugar – 1/3 cup
Baking tray (13 by 9 inche)- 2 (or heart shaped pans)
Non stick spray or baking sheet
Sugar syrup:
Water – 1 cup
Sugar – 1/4 cup
Pineapple essence – 1 tsp
Rum – 1 1/2 tbsp (optional)
Method of Preparation:
Check out the home made recipe for white cake.
Preheat oven to 350ºF for 15 minutes.
Grease the trays with non-stick spray or butter.
Add cake mix, eggs, melted butter and 3/4th of the evaporated milk to mixing bowl and beat it using a hand mixer or electric mixer to make a smooth batter.
Divide the batter into equal portions and pour it into the greased trays and spread it evenly without any bumps
Bake it for 15 to 20 minutes or until a tooth pick or skewer inserted in the middle of the cake comes clean.
Remove from oven and cool it for 30 minutes.
Take a plain sheet of paper and draw a heart shape as shown in picture and cut it out.
Place the cut out sheet on top of the cakes and cut it to get a nice heart shaped cake layers.
To make the surface even trim the top part of the cake.
Place the bottom layer on a cake stand or any base.
Prepare whipped cream by beating heavy whipping cream, vanilla extract and sugar in a chilled bowl until stiff peaks are formed. Do not over beat.
Make sugar syrup by mixing water, sugar, pineapple essence and rum.
Sprinkle it on top of the first layer and spread the pineapple chunks and some cherries and slowly spread the whipped cream on top with a spatula.
Place the second layer of cake on top and repeat the same procedure.
This time spread the whipped cream all over the cake. Cover the cake with cream and smooth the sides and even it out.
Take the remaining cream and put it in a piping bag or hand made cone and decorate the cake with your own design.
Use the rest of the pineapple chunks and cherries to decorate the cake.
Keep it refrigerated for about 2 to 3 hours before cutting.
Enjoy the home made pineapple cake that melts in your mouth.