Dry Fruit Cookies
Dry Fruit Cookies are very easy to make and they taste so good. And this is perfect for the holiday season. You can make the dough ahead and cut it to pieces and just throw it in the oven, cookies are ready. I adapted the recipe from Ina Garten's recipe and tweaked it according to my taste. You can add any dry fruits or nuts of your choice. This is a perfect snack with tea or just by itself. If you don't want to use the alcohol for soaking, you can substitute it with apple juice or orange juice or both. These are not too frutti, it's perfect. Try this and enjoy with your family and friends. Have a wonderful Christmas and New year.
Preparation time: 45 minutes (resting time: 10 hours)
No. of servings: 12 pieces
Ingredients:
Candied fruits (tutti frutti) – 1/2 cup
Raisins – 3/4 cup
Dried apricot – 1/4 cup
Dried strawberry – 1/4 cup
Dried fig – 1/4 cup
Dried pineapple – 1/4 cup
Chopped dates – 1/2 cup
Brandy or sherry – 3 tbsp (can substitute with apple juice or orange juice)
Chopped walnut – 1/2 cup
Honey – 2 tbsp
Fresh lemon juice – 1 tbsp
Unsalted butter – 8 oz ( 2 sticks or 225 gram)
Sugar – 1/2 cup
Light brown sugar – 1/3 cup
Cloves – 6 (ground)
Large egg – 1
All purpose flour – 2 and 1/2 cups
Salt
Method of Preparation: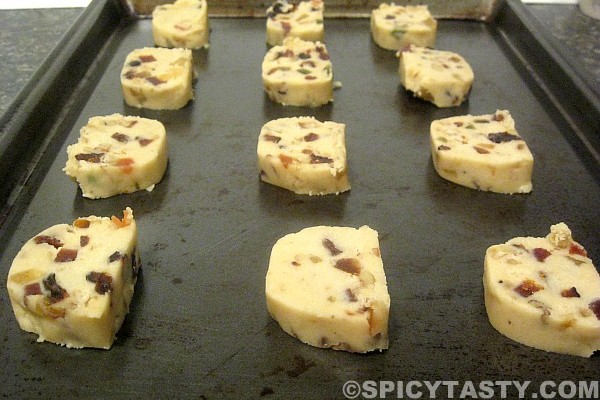 Mix all the dry fruits in a bowl and add honey, brandy, lemon juice and a pinch of salt. Mix well and let it sit overnight.
In a bowl add unsalted butter at room temperature and beat it using a electric mixer until creamy, about a minute.
Add sugar and cloves and beat it until creamy and smooth, about 2 to 3 minutes.
At low speed, add egg and mix well. Scrape the side occasionally.
Sift and add the flour slowly along with 1/4 tsp of salt to the bowl and mix at low speed until incorporated.
Remove the mixer and add the fruit mix and chopped nuts and mix well. Use your rubber spatula, if possible.
Divide the dough into two equal portions.
Cut two sheets of parchment paper of 18 inches.
Place the dough on parchment paper and make it into a 1 1/2 to 2 inches thick log and roll it and refrigerate it for 2 hours or until firm.
If you want to use it in a few minutes, keep it in the freezer for a few minutes. But don't let it become too hard.
Preheat oven to 350°F (175°C).
Once the dough is firm, cut it into 1/2 inch thick slices and place it on a plain baking sheet 2 inches apart and bake for 15 to 20 mins or until the edges are brown.
Make sure the dough is cold enough. If not after cutting it, refrigerate it for 10 to 15 mins and bake.
Store it in an air tight box. Also, you can save the dough in the refrigerator for later use.
If you want your cookies not to spread too much and be soft, make sure it is completely chilled before baking.
Make sure butter is at room temperature and follow the recipe carefully without altering anything.