Grilled Veggie Cheese Sandwich
Grilled Veggie Cheese Sandwich is my all time favorite sandwich. This version of sandwich is loaded with vegetables and some cheese. So this is a healthy and yummy sandwich and you should definitely try it. Kids will love it. I have used ciabatta bread to make this sandwich. You can substitute it with any bread such as Italian or french loaf, etc. I bought this bread from Panera Bread company. You can also check your local bakery or grocery store.
Preparation time: 30 minutes
No. of servings: 4 sandwiches
Spice level: 2 out of 5
Ingredients:
Ciabatta bread – 1 big loaf
Thinly sliced onions – 1/2 cup
Half red bell pepper, cut into thin strips
Half zucchini, thinly sliced
Tomatoes – 2 (thinly sliced)
Arugula – 1 cup
Garlic – 3 pods
Mozzarella cheese – 4 slices
White vinegar – 1 tbsp
Red wine vinegar – 1 tbsp
Olive oil
Butter – 1 tsp
Salt and pepper
Italian seasoning – 1 tsp (optional)
Method of Preparation: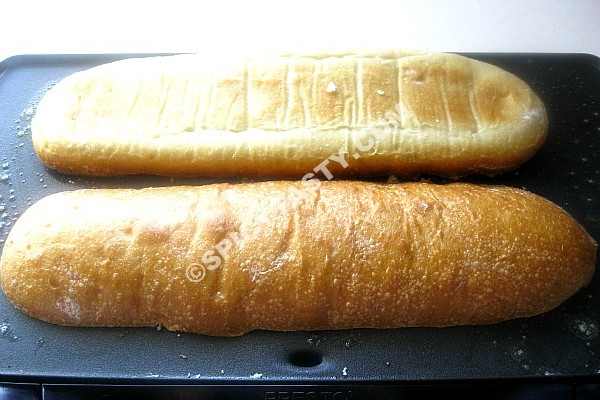 Heat a tsp of olive oil in a wide skillet and saute onions with a little salt and pepper.
In between, add white vinegar, red wine vinegar, 2 pods of chopped garlic and Italian seasoning and saute till onion absorb the flavor and get caramelized.
Transfer onions to a plate.
In the same pan add a tsp of oil and saute thinly sliced red bell pepper with a little salt and pepper.
Saute till red peppers are half cooked and crisp. transfer the peppers to a plate.
In the same pan sauce sliced zucchini with salt and pepper till zucchini softens that is for a couple of minutes.
Transfer it to a plate. Do not burn any of the vegetables.
Heat a wide griddle or grill over medium heat or use an electric griddle.
Keep everything ready and slice the bread in half lengthwise.
When griddle is hot, spread butter on the griddle and rub a garlic pod over the butter to infuse the flavor. Place the bread with the soft side (inner side) facing down.
When it becomes golden brown, turn the bread and line the vegetables one by one and sprinkle some salt and pepper. Finally top it with cheese slices.
Cover it with the other half of the bread and place a heavy iron grill or a heavy weight on top till the cheese melts.
Now turn the bread with cheese side down and remove the top bread and top it with arugula and cover it.
Place the weight back on top for a minute.
Now remove from griddle and place it on a cutting board and cut into desired size sandwiches
Serve hot. You can also serve with spicy mayo or other sauce of your choice.