Lemon Sevai and Sweet Sevai
Sevai is rice noodles made from parboiled rice. It looks more like Idiyappam but a thicker version. Also idiyappam is made from raw rice flour and it is very thin. This is pretty much the difference. Sevai maker or Sevai Nazhi is used for making this dish. Even murukku achu can be used for making this dish.
You can make different varieties of Sevai from the basic recipe. Now I have shared the recipe for Lemon and Sweet Sevai which are my favorites. Sevai is a healthy dish and kids will definitely love it. You can serve this dish for breakfast or dinner or even pack for a healthy lunch.
Preparation time: 6 hours
Cooking time: 40 minutes
Serving size – 3 to 4
Ingredients:
Parboiled rice – 1 cup
Raw rice – 2 tbsp
Oil – 2 tsp (preferably sesame oil)
Salt – 3/4 tsp
Method of Preparation:
Wash and soak raw rice and parboiled rice for 6 hours or overnight. Grind it to a fine, smooth batter with a little water.
After grinding, make it to a loose batter by adding some more water.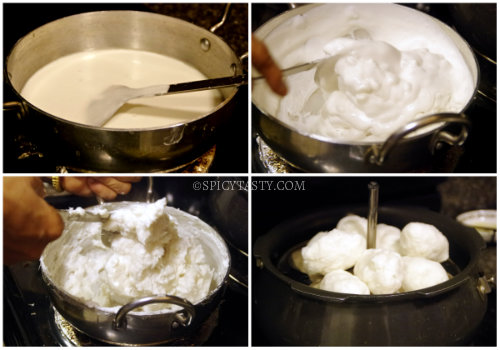 Add this batter to a pan or kadai with 2 tsp of sesame oil and cook over medium heat and keep stirring until it becomes a thick and round dough. Make big oval shape balls and steam cook it in idli cooker or pressure cooker for 13 to 15 minutes.
Add the steamed dough to the sevai maker and press or squeeze. Sevai is ready. Before making different Sevai recipes, break them into small pieces after it is completely cooled.
Lemon Sevai: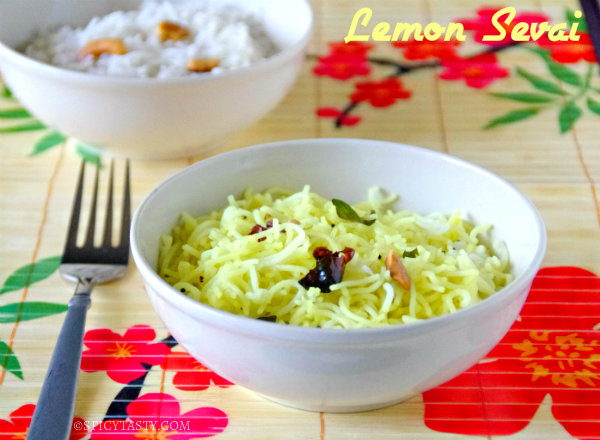 Cooked Sevai – 4 cups
Lemon – 1
Mustard seeds – 1/2 tsp
Urad dal – 1 tsp
Chana dal – 1 tbsp
Dried chilies – 2
A pinch of asafoetida
Broken Cashew nut – 1 tssp (optional)
Oil – 1 tsp
Soak urad dal and channa dal for half an hour. Drain the lentils and pat it dry. Heat a tsp of oil in a small pan, add mustard seeds. When it splutters, add urad dal and channa dal followed by cashew nut, dried chilies and a pinch of asafoetida. When lentils and cashew nut become golden brown, turn off heat and squeeze the lemon juice.  Add this mixture to sevai and mix well. Lemon Sevai is ready.
Sweet Sevai: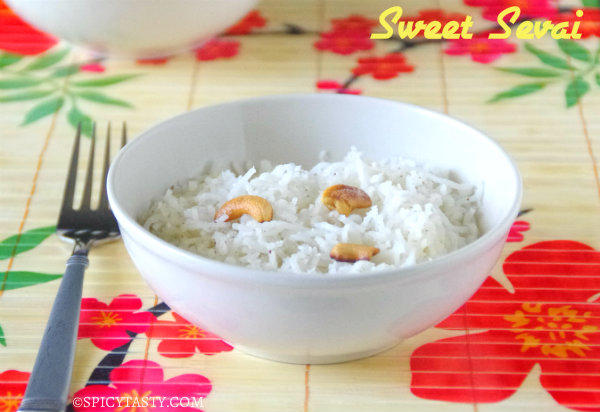 Sevai – 2 cups
Sugar – 3 to 4 tsp
Grated coconut – 2 tbsp
A pinch of cardamom powder
Ghee or clarified butter – 1/2 tsp
Mix all the above ingredients in a bowl and serve. Make this sevai just before serving otherwise sugar will start leaving water and the sevai becomes soggy.