Oats Adai (Oats Lentils Pancake)
Oats makes for a healthy breakfast and you can't go wrong with any oats recipes. My husband and I both love Adai so I thought instead of making it with rice why not try it with oats. And it came out very delicious and Karthik didn't even realize it was made with oats until I told him. It has become one of my favorite oats recipes.
Try this delicious oats adai if you are in a hunt for healthy Indian food recipes.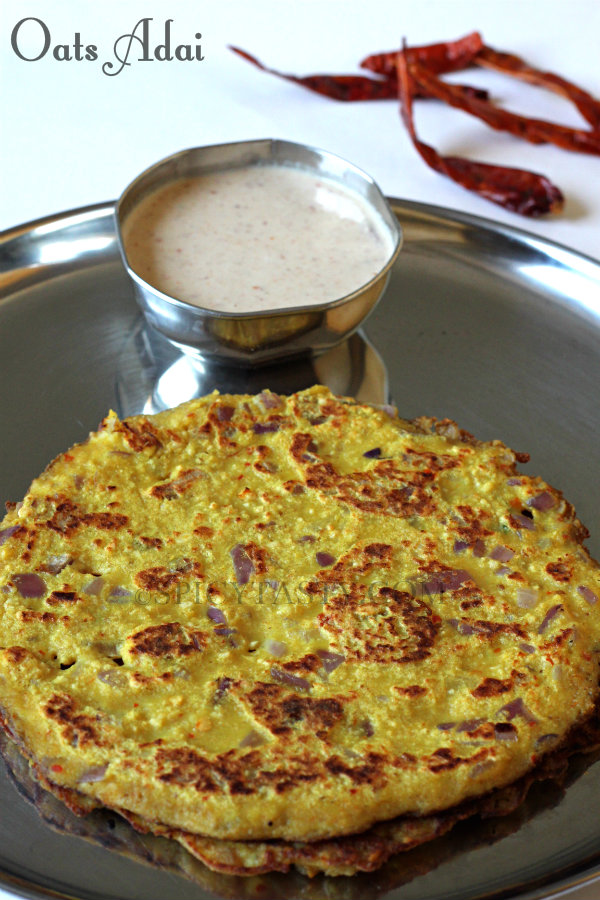 Preparation Time : 1 hour and 45 minutes
Spice Level : 2 out of 5
No Of Servings : 6-7
weight watchers Point : 8 (for 2 adai)
Ingredients:
Powdered oats: 1 cup
Chana dal : 1/2 cup
Moong dal : 2 tbsp
Urad dal : 1 tbsp
Onion: 1 big(finely chopped)
Whole red chilies : 3-4
Garlic : 3-4
Cumin Seeds : 1/2 tsp
Curry Leaves : 5-6
Cilantro : 3 tbsp (finely chopped)
Asafetida :  a pinch
Shredded Coconut : 3 tbsp (optional)
Oil
Salt : to taste
Method Of Preparation :
Just grind the whole oats in to smooth powder and keep it aside.
Soak the channa dal, moong dal, urad dal, whole red chilies and cumin seeds  for an hour and keep it aside.
After that grind the dals with garlic , cumin seeds and whole red chilies into a coarse paste.
Add chopped onion, curry leaves(chopped), salt, turmeric powder and cilantro into the above mixture.
Now add some water to make it into a batter consistency. Keep it aside for an hour or atleast 30 minutes.
Now take 1/2 cup  full of batter  to make a adai.
Heat a dosa pan and spread the batter like we make for dosa or pancakes.
Pour some oil on the sides and center of adai.
Cover it with lid. Wait till it become golden brown in color and open the lid. Turn it now.
Once it is done on both sides remove from heat and serve it hot.
Serve it hot withPeanut chutney or avial
Also check out or Mangalore adai and Kara adai